'Pigeon Trees' Among Rare Finds at Limestone Glade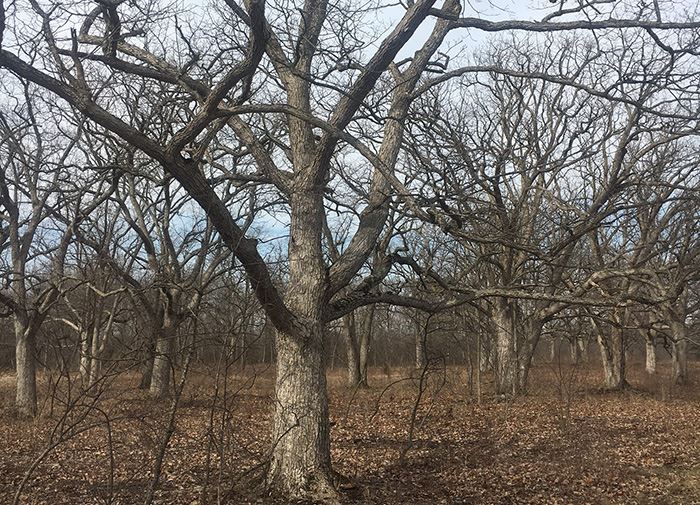 By Karen Menard
Photo by Karen Menard
The Pigeon Trees
The chinquapin oak, historically known as the "Pigeon Oak," can be found in the restored limestone glade at Blue Creek Metropark. With interesting, gnarled roots twisted over the top of the limestone bedrock, these trees intertwine rock crevices in pursuit of water. Most likely second growth (one tree was recently aged to 1865, around the time the Civil War ended), some are descendants of the original site inhabitants.
In an 1819 local land survey record, Samuel Holmes wrote that "On a limestone ridge, the following timber was noted: white, black, red, burr, pin, and pigeon oak." Pigeon referred to the now extinct passenger pigeon that commonly roosted in flocks, covering North American Chinquapin oaks more than 200 years ago. Passenger pigeons also preferred Chinquapins for their small, sweet acorns. Unfortunately, by the time these second growth trees were saplings, the pigeons were on the decline in North America due to over harvesting and habitat loss.
Winter is a great time to drive down Schadel Road through Blue Creek Metropark and admire the shapes, textures and colors of these distinctive chinquapin oaks.
Over the last three years, Metropark staff and volunteers have worked to restore this special area, known as the Limestone Glade. Invasive species such as honeysuckle, buckthorn, and autumn olive once thickly covered most of the 25-acre area for many years. Now that many of these plants have been removed, the trees have more room to grow and native plants are sprouting from the seed bank between the rocks and sand.
Uncommon and state-listed rare plants are annually being added to the list. Barred owls have been seen hunting in the area and feeding flocks of Eastern bluebirds and other songbirds frequent different parts of this unique habitat. It will be exciting to observe wildlife abundance and biodiversity grow into the future at this special Metropark site.