Searching for Botanical Rarities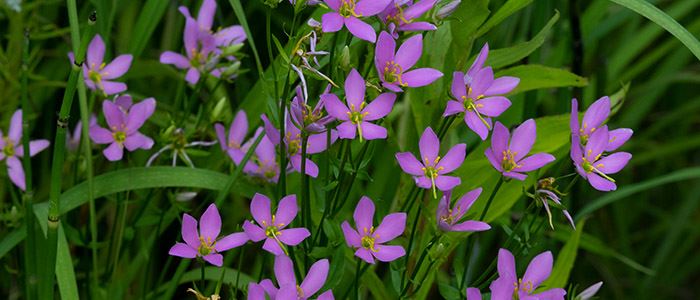 Searching for Botanical Rarities
By: Karen Menard, Research and Monitoring Supervisor
Lucas County is home to more rare plant species than anywhere else in Ohio, and Metroparks is a steward of almost 13,000 acres of habitat in which many of these rarities reside. Several of these species occur in the Oak Openings Region- a biodiversity hotspot.
Every season, Metroparks volunteers spend many hours monitoring and taking inventory of our state-listed rare plant populations in the park district.  There are approximately nine volunteers that take on this tremendous task of counting populations of these special rarities from May into September.  Last year, 133 populations were monitored, with 186 hours in the field. 
Each rare plant population is consistently tallied and accurately logged electronically with a unique identification code and then entered into special software using an IPAD complete with maps.  After surveying the condition of the habitat as well as entering information about the specific population, this information is uploaded to a separate GIS (Geographical Information System) database to be stored on park map layers. Many of these state-listed populations have been monitored by park district staff and volunteers for the last 40 years.
To be considered for "state-listed" status, a plant species must meet certain designation criteria in the following categories as determined by Ohio Department of Natural Resources, Division of Natural Areas and Preserves: Endangered, Threatened, or Potentially Threatened.  Currently, there are over 100 of these state-listed plant species that are monitored in the Metroparks, and the information collected regarding these populations is shared with the larger, statewide knowledge base.
Among many of these rarities surveyed each year are two state threatened orchids- the small purple fringed (Plantanthera psycodes) and the yellow fringed (Plantanthera ciliaris).  Until this year, the yellow fringed orchid only existed at two very small sites that included just a couple of individuals. However, this season, Metroparks plant monitors located a larger population at one site. Staff then located approximately 65 more individual plants!   Much of the orchids' bloom success can be attributed to recent decreases in the white-tailed deer population, as well as careful management of the natural area. Orchid flowers are a known favorite food source of the white-tailed deer.
Another unique plant discovery this year was a population of 15 rosepinks, (Sabatia angularis), found at a remote Oak Openings corridor site by staff. This plant was recorded in the 1920's by Edwin Moseley in the "Flora of the Oak Openings" yet has not been noted here in the last few decades.
A small population of wood violets (Viola palmata) was located by staff growing among the also unique and uncommon, heart-leaved skullcap (Scutellaria ovata) in the high quality woodland at Fallen Timbers Battlefield. Not too far away, at Side Cut Metropark, False aster (Boltonia asteroides), was recently discovered in bloom. None of those species has ever been recorded in the Metroparks and are found in just a few northwestern Ohio counties.
As more lands are preserved, managed and restored in the parks, more discoveries will be made- like found treasures! With the help of our volunteer plant monitors and staff, an exciting array of rare and special plant species are just waiting to be discovered in our Metroparks and added to our growing list of unique and rare species.