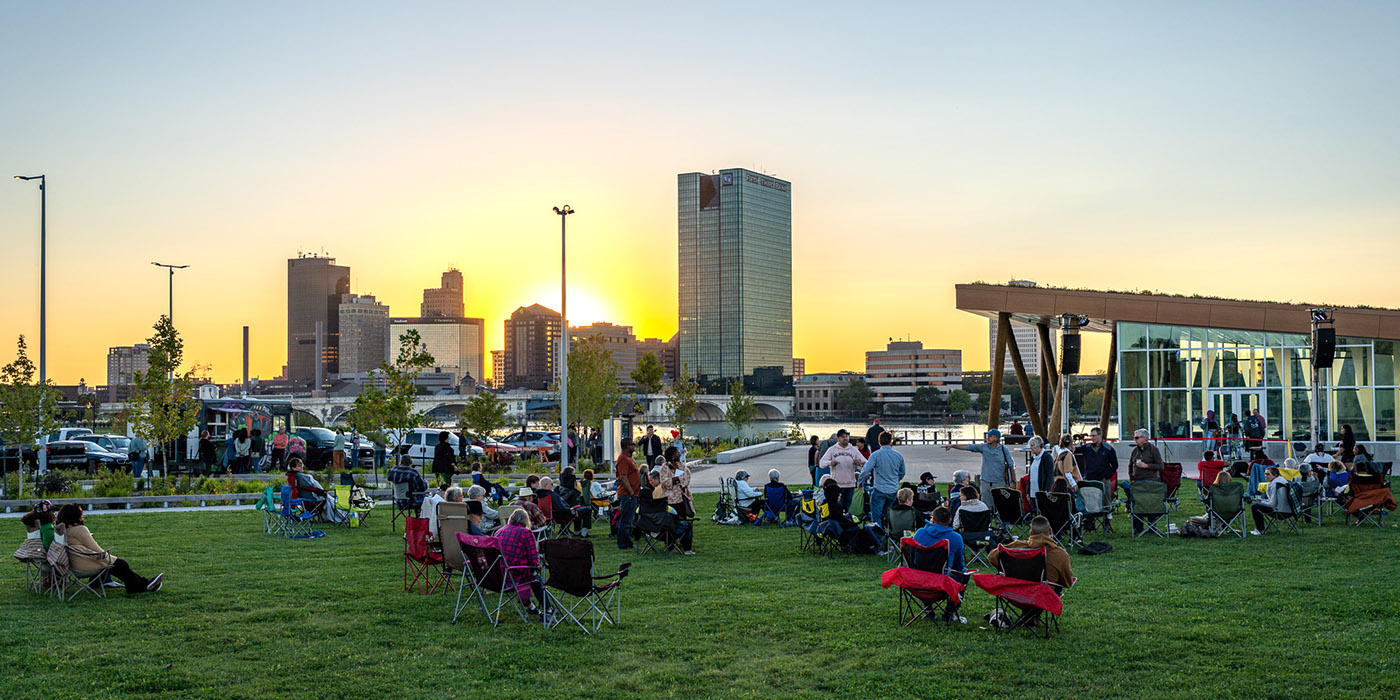 Music in Green Spaces
Throughout history, nature has inspired musicians to create by providing inspiration, space and the backdrop for self-expression. Metroparks Toledo is committed to offering a diverse lineup of live music performances in open spaces and intimate listening rooms to connect people to green spaces in a unique Metroparks way. 
Opera Outdoors Summer Concert Series
Toledo Botanical Garden
Toledo Opera's free pop-up performance series returns with four dates in May. Opera Outdoors performances are free, no reservations required.
Wednesday, May 4, 6 p.m. 
Wednesday, May 11, 6 p.m.
Wednesday, May 18, 6 p.m.
Wednesday, May 25, 6 p.m.
---

Noon Tunes
Wildwood Preserve, Manor House Gazebo; Noon
Bring a lawn chair and your lunch to Wildwood Preserve. Relax for an hour on the Manor House grounds as local musical artists provide entertainment for a fun summer memory in the parks. Sponsored by the Manor House Volunteers. Program will be cancelled if it is raining. Free. No reservations required.  
May 27 - Tim Oehlers
June 24 - Backyard Muriel
July 22 - Kerry Patrick Clark
August 26 - Chloe and the Steel Strings
September 16 - Terry and Charlie
---

Jazz In The Garden
Toledo Botanical Garden, Thursdays, 6:30 p.m.
Warm summer nights and cool jazz in the garden. This season, once again, features some of the best regional artists. We'll have food trucks on site. Bring your friends/family and enjoy music in nature. Fee: $10. $5 for Members. No reservation required. Cash only at gate. Gates open at 5:30 p.m. Bring a chair/blanket. For a complete line-up of performances visit MetroparksToledo.com/jazz.
July 7 – Toledo Jazz Orchestra
July 14 – Ramona Collins Quintet
July 21 – 6th Edition
July 28 – Cake Walkin' Jass Band
August 4 – Gene Parker Quintet CANCELLED
August 11 – Mike Lorenz Trio
August 18 – Jason Quick Trio
August 25 – Zen Zadravek Quartet
September 1 – Travis Auckerman's Spruce and Mahogany Trio
September 8 – Tumbao Bravo
Please note that on Thursdays, July 7 through September 8, Toledo Botanical Garden will close to the public beginning at 1 p.m. to set-up for Jazz in the Garden.
---

Folk Series
Various Locations
This seasons Folk Series will feature local and regional artists with eclectic styles and sounds. The Folk Series will offer an intimate listening experience at Brookwood Area or an open-air summer concert in nature at the all new Glass City Metropark event lawn.  All Folk Series concerts are free. Reservations required for certain dates. Doors open at 6:30 p.m.
Glass City Metropark
1001 Front Street
Open air outdoor concert
No reservations required, Free
Radio Free Honduras
Glass City Metropark
Friday, June 24, 7 p.m.
Radio Free Honduras is a mostly acoustic Latin folk-rock band, fronted by Honduran music legend and guitar virtuoso Charlie Baran. Before relocating to Chicago, Charlie was a fixture in the Honduran music scene. He became well known by those in the music industry as a composer and songwriter, and was revered by audiences for his talent as a performer. In Honduras he is best known as a founding member of the Honduran punta-rock band Banda Blanca. Charlie teamed up with Dan Abu-Absi (of JT and the Clouds and Birds of Chicago fame) to put together Radio Free Honduras a band of seasoned Chicago players who bring a wide range of influences to the music. Click Here to learn more about the artist.
Yasmin Williams
Glass City Metropark, 
Friday, September 30, 7 p.m.
No Reservations Required, Free
The innovative acoustic guitar virtuoso makes her Toledo debut!  Forget everything you thought you knew about how to play the guitar. Yasmin Williams has something new to show you. At just 24 years old, Williams is forging a thrillingly inventive approach to the acoustic guitar and receiving ample praise from the likes of Rolling Stone, NPR Music, and Pitchfork along the way. Often playing with her guitar laying horizontally across her lap, Williams incorporates intricate fingerstyle, percussive foot tapping, and multi-instrumental dexterity in a mind-boggling combination. You can't help but ask yourself: how are all of these sounds made by just one musician playing in real time? Click Here to learn more about the artist.
"When 24-year-old instrumentalist Yasmin Williams plays guitar, she conjures new possibilities and stories from the instrument." – Rolling Stone 
"On her second album the 24-year old solo guitarist's unique style finds inspiration from unexpected places and sounds untethered to any tradition whatsoever." – Pitchfork (received an 8.0 score)
Brookwood Area
5604 Swan Creek Drive
Intimate listening experience
Reservations Required, Free 
Tickets will go on sale Thursday, April 21
Libby DeCamp
Brookwood Area*
Friday, July 29, 7 p.m. [Register]
Libby DeCamp makes lyrically-edged folk and roots-steeped music, and delivers with a vocal closeness and live energy that reaches listeners of all kinds. DeCamp's writing and sound carries an unflinching intention to reflect the times. Click Here to learn more about the artist.
Jeff Stewart
Brookwood Area*
Friday, August 26, 7 p.m.
Reservations Required, Free [Register]
Jeff Stewart's approach is straight-forward: a man, his guitar, and a wide-eyed look at that crazy thing called love. His tightly crafted original songs paint the picture of a heart, once broken, suddenly surprised by the good fortune of discovering love anew. It's music for anyone that has ever walked into the sunshine of a new future, however uncertain. Click Here to learn more about the artist.
*Brookwood Area is an intimate listening room experience.  Advanced reservations are required. All tickets are complimentary.  
---
Other Special Events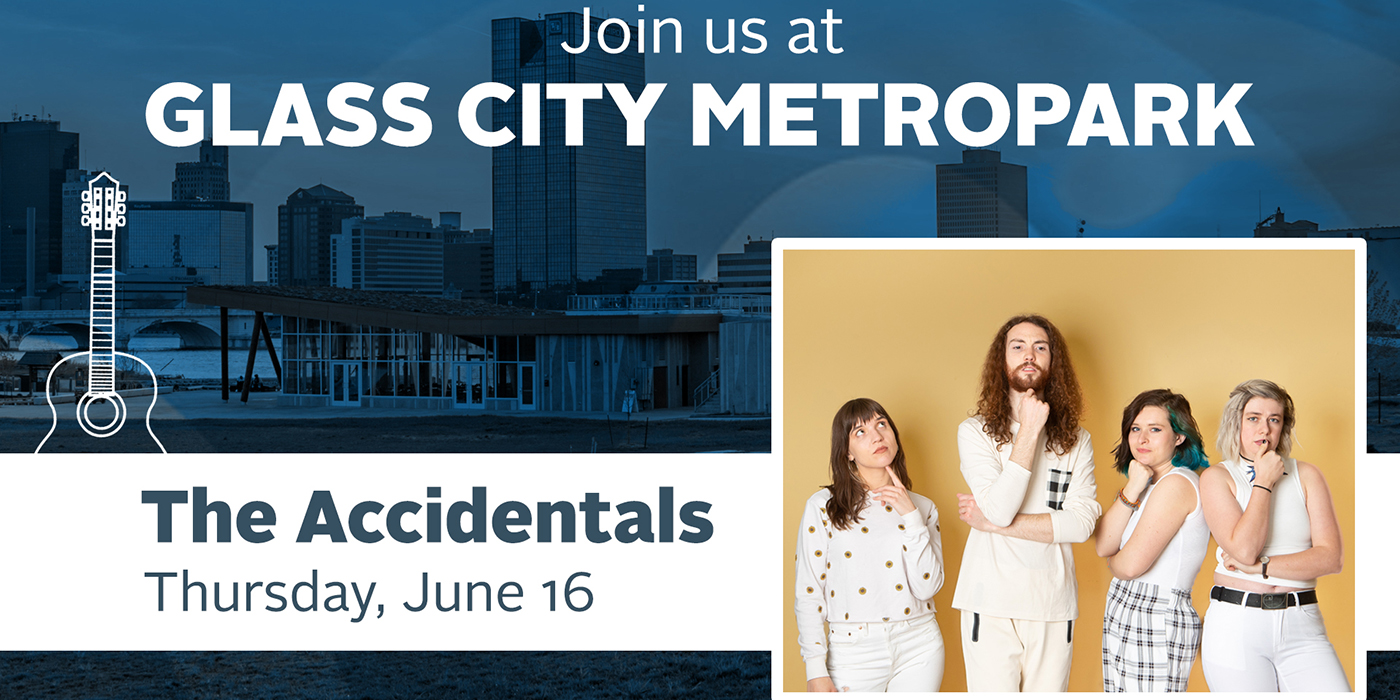 The Accidentals
Glass City Metropark
Thursday, June 16, 7 p.m.
Long before glowing acclaim from NPR and Billboard, packed shows, unforgettable festival appearances, millions of streams, and collaborations with everyone from BTS to Contemporary Youth Orchestra, the journey of The Accidentals commenced in a public high school classroom in Traverse City, MI. As the story goes, concertmaster violinist Savannah Buist, and cellist, Katie Larson, raised their hands at the request for volunteers to play a music boosters concert and wound up being musical soulmates.  The Accidentals spent the better part of the last year writing songs for a TIME OUT album with writers who inspired them to create, including Hall of Fame writer Beth Nielsen Chapman (Willie Nelson, Elton John, Faith Hill), barrier-breaking Kim Richey, and Maia Sharp (Bonnie Raitt, Dixie Chicks, Cher), among others. After a sold-out, thirteen-city tour and fifteen weeks at top ten radio, they decided to record TIME OUT 2. With the release of the second TIME OUT comes another round of compelling co-written songs and this incredible lineup. We hope you'll join us for a TIME OUT! Click Here to learn more about the artist.