One-of-a-Kind Park Incorporates Unique Features
Visitors to the new Glass City Metropark will encounter unique experiences in natural settings, with a park design influenced by the Maumee River, local history and input from the community.
"Our design was inspired by elements you would find in nature, like flowing shapes that remind you of a meandering river or a tree-like play structure found in a forest," added Allison Marusic, associate, landscape architect, for SmithGroup, the project designer.
"This East Toledo neighborhood is historically underserved, so it was important that the new park bring a sense of pride to the community," added Cheryl Zuellig, vice-president and national director of landscape architecture and civil engineering for SmithGroup. "Our team hosted many public engagement sessions where residents could share their wants and dreams for the project. We listened and brought their vision to life."
The following descriptions of the unique features at Glass City were provided by SmithGroup. 
Grosbeak Discovery Play
This is an adventure play node nestled into the side of the sled hill near the center of the park. The area contains a double zip line, cross-swings and an inviting hillside outfitted with custom slides and rock and log climbing opportunities. But the main attraction is the Grosbeak play tower, inspired by the striking colors of the once rare blue grosbeak often spotted in the region. Standing over 40' tall, the tower is packed with as many play features as could be safely incorporated and includes two fully accessible levels, thanks to a bridge connecting to the top of the hillside. Flex-form rubber and steel core ropes form multiple adventure crossings, flex ladders, rope bridges, rung ladders, rope chaos courses, net floors, sling hammocks and more!  There is a central net climber and tube slide, a smaller slide, a talk tube network, command center and so much more.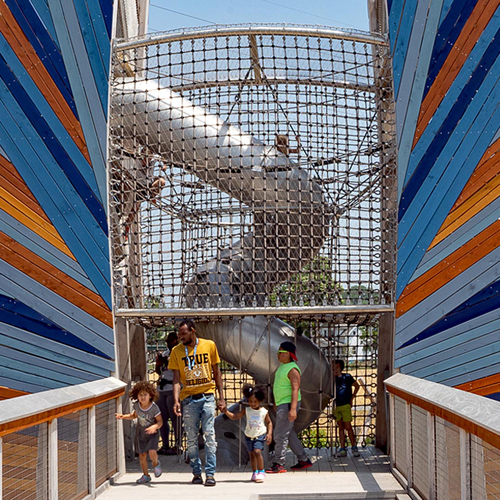 Prairie + Pollinator Discovery Play
This dynamic play experience is inspired by the flora and fauna of the region. Visitors can go 'underground' in play tunnels, climb atop hills, and test their balance, strength and endurance on a circuit of engaging structures built from natural materials. Picnic areas surround the play node, nestled into a landscape of native plants. In the future once plants are more established, a 'prairie maze' feature will be mown into the adjacent meadow.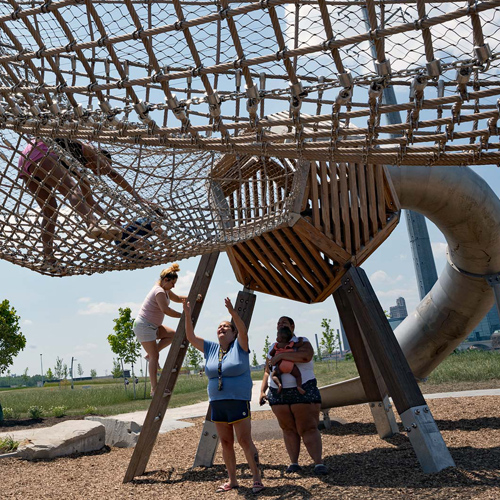 Mini Maumee Discover Play
The Mini-Maumee allows Metroparks Toledo to further its programming promoting the health of the Maumee River and Lake Erie in an immersive and interactive environment that engages a broad range of audiences. First and foremost, it is a signature water feature that delights guest of all ages, and as a scaled depiction of the Maumee River, it serves as an interactive teaching tool that demonstrates the breadth of the watershed and how decisions by one community will affect all communities downstream.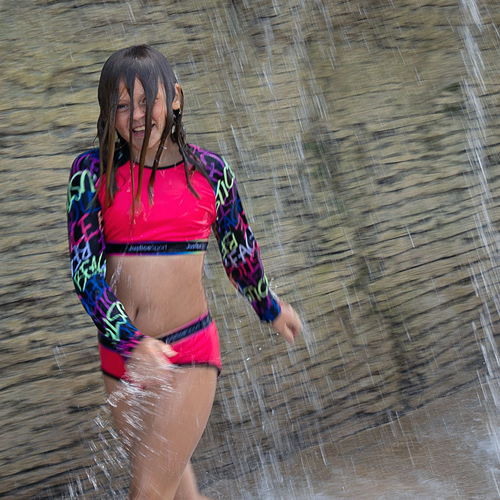 The Cove + Adventure Boardwalk
Formerly a commercial marina, the cove was redesigned as a naturalized cove with native plantings and aquatic habitat that offers visitors a protected area to enjoy kayaking and other introductory water experiences. An accessible kayak launch allows users of all abilities to kayak, and stepped water access points provide additional connections.  
The cove is enclosed by the adventure boardwalk – a series of elevated decks and overlook spots connected by rope bridges. The boardwalk provides incredible views of the Maumee and downtown Toledo, as well as the park itself. Areas outfitted with net seating allow visitors to relax above the water. This feature was designed to allow kayakers to float underneath and out into the Maumee should they wish to leave the cove and explore the greater Maumee or connect to the Maumee River Water Trail that stretches 107-miles from Maumee Bay and Lake Erie to the Ohio-Indiana border.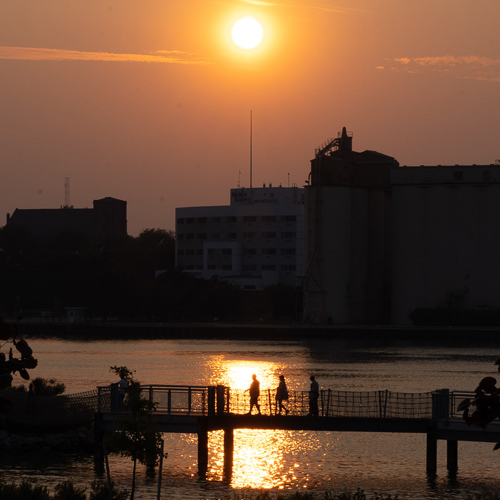 Market Hall
This 9,500-square-foot park building houses park equipment rentals, event space, restrooms, lockers, a dual-sided fireplace, and a full-service restaurant and beer garden which is open to the public. The building design was inspired by a forest tree canopy, translating into a signature roofline and dynamic wood ceiling. The use of bird-safe glass walls and large roll-up doors enhance indoor-outdoor relationships throughout the facility. Guests will enjoy this amenity as an all-season hub for the park and a centerpiece of programming for residents and visitors alike.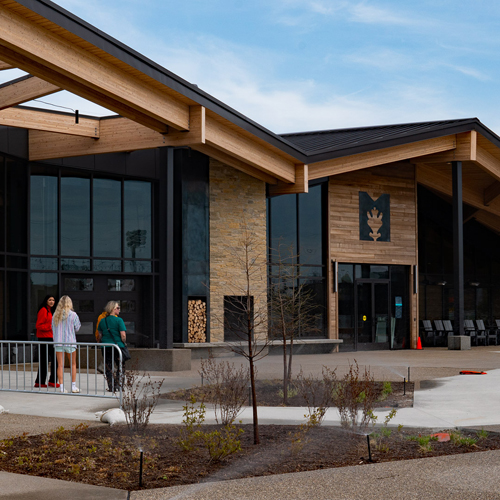 The Ribbon
The Ribbon is a 1,000-foot-long ice skating and roller skating trail.
Park Stats 
Total Park Area = 70 acres (Phase One: 21 acres; Phase Two: 51 acres)
Trails = 15,000+ linear feet of trails (nearly 3 miles)
Forest Establishment = 17 acres of trees planted
PrairieEstablishment = 27 acres of natural grass land
Shoreline Restoration= 3,000+ linear feet of improved shoreline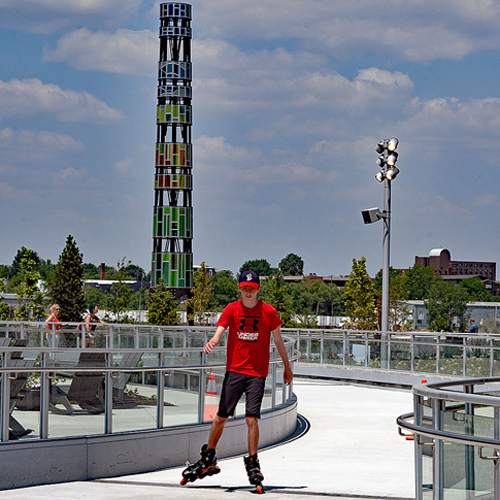 ---
About SmithGroup
SmithGroup (www.smithgroup.com) is one of the world's preeminent integrated design firms. Working across a network of 20 offices in the U.S. and China, a team of 1,300 experts is committed to excellence in strategy, design and delivery. The scale of the firm's thinking and organization produces partnerships with forward-looking clients that maximize opportunities, minimize risk and solve their most complex problems. SmithGroup creates exceptional design solutions for healthcare, science and technology organizations, higher education and cultural institutions, urban environments, diverse workplaces, mixed-use and waterfront developments, and parks and open spaces.
--
Related
Glass City Metropark Opens as Part of Toledo Riverfront Transformation