Glass City Metropark Opens as Part of Toledo Riverfront Transformation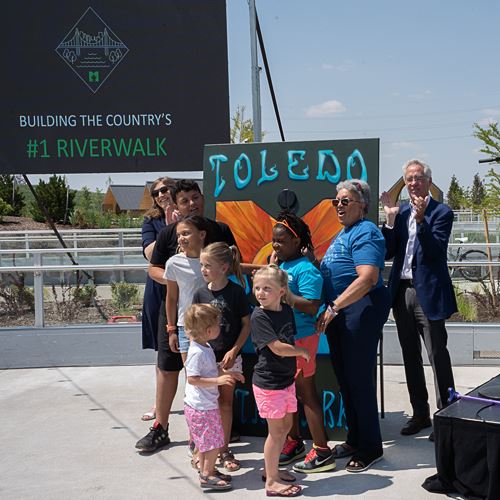 Photo: Kids joined members of the Board of Park Commissioners to flip the switch and "turn on" the new park.
 Park Addition Includes Unique Play Spaces
"This Great River, which is so important to our history, could be equally important to our future."
TOLEDO - The opening of Glass City Metropark phase 2 today achieves a longstanding goal of the community to transform a riverfront brownfield between Front Street and the Maumee River into a premier waterfront park.
Glass City Metropark also completes the first section of Glass City Riverwalk, which will eventually extend five miles on both sides of the river.
"I think it was obvious to all of us that this great river, which was so important to our history, could be equally important to our future," Chrys Peterson said at the start of a dedication celebration this morning. "And the voters in November 2020 overwhelming agreed," she added, referring to a successful levy campaign that she chaired to raise public funding that will pay for about half the cost of the Riverwalk project.
Phase 2 includes the bulk of the park's unique features, which include: 
The Ribbon, a 1,000-foot-long ice skating and roller skating trail
The first restaurant in a Metropark, The Garden by Poco Piatti
Market Hall, a 9,500-square-foot building that houses the restaurant, skate rental, restrooms and changing rooms
Three nature-themed play areas, including a water playground and a 40-foot-tall play structure
Three miles of trail in Glass City connect with an existing trail at International Park via a bike and pedestrian bridge over Main Street. The trail system also connects with the Riverwalk multi-use trail, the first portions of which are now under construction.
Art is sprinkled throughout the park, including a 50-foot tower called "The Beacon" that represents the smokestacks of the property's past. "Slag Ladles" is an art installation made from industrial objects found onsite, and "Rain Towers" doubles as a splash pad. "Field of Histories," a sprawling sculpture made of glass spheres, will be installed in October. Artists are just completing a mural on the abutments to the bridge over Main Street, which pays tribute to nature and East Toledo history.
Glass City will open daily at 7 a.m. and close at 10 p.m. Market Hall will be open from 9 a.m. to 9 p.m. every day, and The Garden restaurant will be open daily for lunch and dinner.
"This wasn't the first plan unveiled for this property – many ideas came and went over the last 30 years – but this is the first one to become a reality," said Dave Zenk, executive director of Metroparks Toledo, who credited the Board of Park Commissioners for the "vision, confidence, passion and courage to embark on something this big."
SmithGroup designed the park and Lathrop Company was the general contractor.
Phase 1 of Glass City Metropark, including the 5,000-square-foot Pavilion event facility, event lawn, a sledding hill, an "adventure boardwalk" and a kayak cove, opened in late 2020. Continental's developments were also completed that year.
Background
Metroparks, ProMedica and Continental Real Estate Companies of Columbus announced in April 2017 plans for a combination retail, residential and park development on the east Toledo riverfront adjacent to downtown. Metroparks purchased nearly 53 acres from ProMedica over three years, and later acquired an additional 17 acres.
"This park helps fulfill the downtown Toledo master plan, which called for additional greenspace," Zenk said. "When Riverwalk is completed in a few years, there will be a 300-acre greenbelt, which is the master plan's goal for creating a city center where people want to live, work and play. That will help to retain attract talent, and encourage private investment."
Glass City will be the primary hub of activity for Glass City Riverwalk. The first phases of Riverwalk are under construction now from the Martin Luther King Bridge to The Docks restaurant complex in International Park, and from the bridge to Fort Industry Square on the downtown side of the river. That work is expected to be completed in spring 2025. Kokosing Construction Company is the general contractor.
Plans for the remainder of International Park and the stretch of Riverwalk from the MLK Bridge to the Craig Memorial Bridge are currently in design. Plans also call for a community center called the Glass City Enrichment Center on Front Street, which will be completed this summer. A campground on the east side of the river near the Craig Bridge, will be built in the future.
"It is gratifying to watch our region rally around a vision that includes today's official launching of the Glass City Metropark," Scott J. Savage, president of the Board of Commissioners, said during the opening celebration. "We look forward to completion of the Glass City Riverwalk, which will help make Toledo the city with the best riverfront in the country."
--
Related