Be Happy, Be a Volunteer!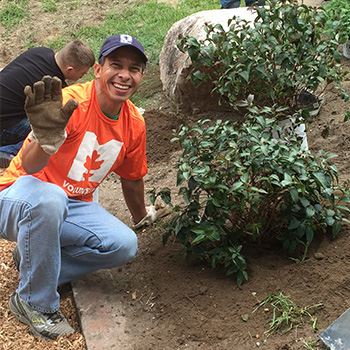 Be Happy, Be a Volunteer!
Metroparks Toledo volunteers have a secret, but it's a secret they're eager to share with you: volunteering outdoors (especially at the Metroparks) is the happiest thing you can do!
It's proven that being active in nature leads to great health benefits. In fact, the U.S. National Park Service says that just a 30-minute visit to a park can improve heart health, circulation and lower cholesterol, blood glucose and blood pressure.
And volunteering in outdoors settings not only reduces your stress and anxiety, but it also improves your mood and boosts your self-esteem. You're outside (and distanced!) with people who have interests like yours, and you're contributing to important projects that benefit the whole community.
The Trust for Public Lands has said that the pandemic has underscored that close-to-home parks are crucial to a community's quality of life and provide essential infrastructure. Parks have provided the escape we have all needed – for exercise, quiet, and a sense of peace – and will continue to need in the future. We are fortunate that everyone in Lucas County has a Metropark within 5 miles from where they live.
What can you do as a Metroparks volunteer? Help in your favorite park by getting involved in planting or maintenance projects. Adopt a landscape bed or participate on conservation projects. Help with Metroparks events and special activities or serve as a Manor House docent. Train to become a Garden Ambassador or join the Volunteer Trail Patrol. Share your love of the outdoors as a roving interpreter or lead interpretive nature walks. There are volunteer opportunities here for everyone, no matter what your interest!
April is National Volunteer Month, and we're celebrating everything volunteering is here at Metroparks Toledo. We're showcasing Metroparks volunteering every day this month, so you can meet our volunteers and learn more about what you can do here. And you can be in on the volunteers' secret too – this is the happiest thing you can volunteer to do!!