Dana Incorporated and Metroparks Toledo Announce 'Sustaining Our World' Lecture Series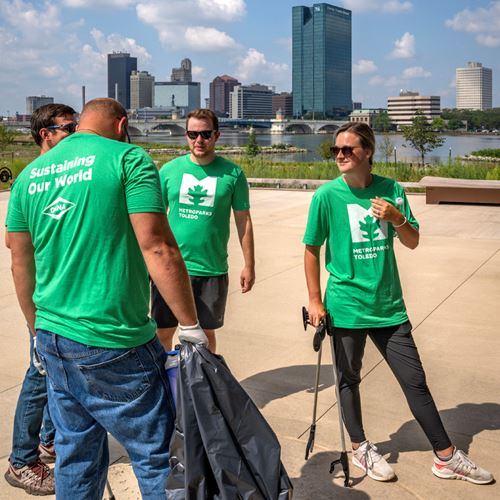 Volunteer Cleanups Also Planned at Glass City
Metroparks Toledo and Dana Incorporated will launch an annual lecture series about the significance of northwest Ohio's natural resources, the importance of protecting and restoring ecosystems and ways the community can make a positive difference for the environment.
Dana is also initiating cleanup days along the shores of the Maumee River, and inviting individuals and groups to participate.
In August, Dana announced that it had donated $1 million to the Metroparks Toledo Foundation to support the construction and maintenance of Glass City Metropark and Riverwalk, as well as an ongoing commitment to public engagement in sustainability through the lecture series and volunteer workdays.
Lecture Series
The Sustaining Our World Lecture Series presented by Dana Incorporated will include four speakers per year covering sustainability and social responsibility topics. Two lectures this spring and two this fall in the Glass City Metropark Pavilion will be open to the public and available online via livestream.
The spring lectures are:
May 5 at 6:30 p.m.
Restoration is Worth the Effort
Tim Schetter, Ph.D., chief natural resources officer, Metroparks Toledo; Joe Cappel, vice president of business development, Toledo-Lucas County Port Authority; and Marc Gerdeman, brownfields redevelopment officer, City of Toledo.
Three experts in their field will discuss the conversion of former brownfields into clean, safe, natural parkland, on a site where such as transformation is already happening. Their presentation will focus on the economic benefits of restoring sites like Glass City, the adaptive reuse of dredged material from the Maumee River and plans for the future of Toledo's riverfront. Following their remarks, the three will come together for a panel discussion with the audience. An optional walking tour of recently completed restoration work will follow, weather permitting.
June 22 at 6:30 p.m.
Engaging Diverse Audiences in the Environment
Dr. Mamie Parker will discuss the importance of engaging diverse audiences, especially youth, in the environment. The first black woman regional director in the U.S. Fish and Wildlife Service, Dr. Parker oversaw 13 Northeastern states and key conservation successes, including pivotal work to remove dams and restore fish passage for Atlantic salmon. She went on to serve as Head of Fisheries nationally. Her work now focuses on engaging youth in the environment through speaking and coaching.
"Sustainability is a primary objective of Glass City Metropark and Riverwalk," said Dave Zenk, executive director of Metroparks Toledo. "The project will directly benefit the Maumee River and Lake Erie by restoring natural areas. At the same time, it will engage people in the outdoors, which is vital to creating a future generation of conservationists."
Volunteers Needed
A series of volunteer workdays sponsored by Dana will include litter pickup and other projects to clean and beautify the riverfront at Glass City and nearby locations. The first workday will be Monday, May 9 from 9 a.m. to 1 p.m.
Groups and individuals interested in volunteering on that day or at future cleanups can get involved by contacting Shannon Hughes, Metroparks director of education and programming, at 419-360-2599 or shannon.hughes@metroparkstoledo.com 
--
About Glass City
Glass City Metropark and Riverwalk is a comprehensive effort to bring over 300 acres of greenspace and a 5-mile trail to the Toledo waterfront. Built on a brownfield site adjacent to the Maumee River, the new greenspace will add natural areas to the urban landscape, reduce heat and air pollution, filter runoff and improve the environment. Riverwalk will connect 35,000 residents in six neighborhoods to high-quality greenspace in a way that strengthens individual and community wellness, drives economic vitality and investment, and helps attract, retain and build a strong talent pipeline.
About Dana Incorporated
Dana is a leader in the design and manufacture of highly efficient propulsion and energy-management solutions for all mobility markets across the globe. The company's conventional and clean-energy solutions support nearly every vehicle manufacturer with drive and motion systems; electrodynamic technologies, including software and controls; and thermal, sealing, and digital solutions.
Based in Maumee, Ohio, USA, the company reported sales of $7.1 billion in 2020 with 38,000 associates in 33 countries across six continents. Founded in 1904, Dana was named one of "America's Most Responsible Companies 2021" by Newsweek for its emphasis on sustainability and social responsibility. The company is driven by a high-performance culture that focuses on its people, which has earned it global recognition as a top employer, including "World's Best Employer" from Forbes magazine. Learn more at dana.com.