Former Director's Legacy Includes Canal, Rail-Trails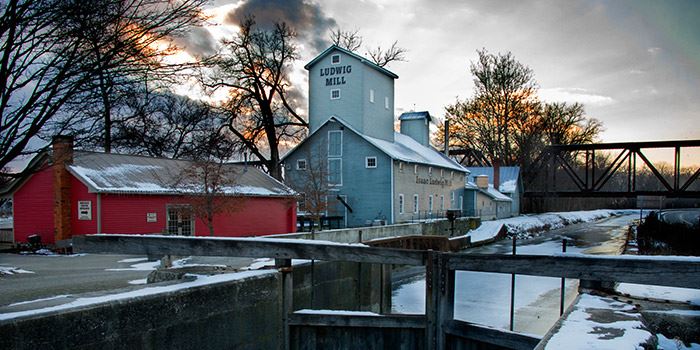 Jean T. Ward, who died July 16 at age 78, was known for his steady leadership, creativity, passion and warm nature. He leaves a legacy at Metroparks that has enriched the lives of people throughout the Toledo area.
A forester by training who worked for the city of Toledo, Mr. Ward came to Metroparks in 1966 as a landscape architect. Two years later he was named deputy director to Robert Metz. When Mr. Metz retired in 1985, Mr. Ward was appointed director-secretary.
Mr. Ward's many contributions included new ideas that challenged the public's perceptions of a Metropark. He established the region's first two "linear parks" (or "Rails-to-trails"), now known as the University/Parks and Wabash Cannonball trails. He also restored a section of the Miami & Erie Canal to create an educational attraction called The Canal Experience at Providence Metropark.
Several significant land acquisitions were made under Mr. Ward's leadership:
- Land adjacent to Wildwood that allowed the park district to expand the region's most popular park. Oak Grove School, formerly located on Corey Road, was moved down the street to the Wildwood addition and restored.
- The Fallen Timbers Battlefield, where artifacts had been unearthed in archaeological digs, documenting the site of the nationally-significant battle. He traveled to Washington to testify before a Congressional committee that later named the battlefield a national historic site and an Affiliated Unit of the National Park Service.
- The former Toledo House of Corrections in Whitehouse, now known as the Blue Creek Conservation Area.
- And land along the Maumee River, which he saw as a priority: Audubon Islands and the property where a new parking lot for Bend View opened last year.
In December 2000, the Metroparks staff threw a retirement party for Mr. Ward in a new facility at the Wildwood addition. During the party, the building was christened the Jean T. Ward Pavilion. Among many other honors that followed, he was inducted into the Ohio Parks and Recreation Association Hall of Fame in 2009. Earlier, he had received OPRA's Lifetime Achievement Award.
Metroparks and the parks and recreation community across Ohio have lost a dear friend and an important champion of conservation.