Gift for Trail Maintenance Honors Bob and Betty Metz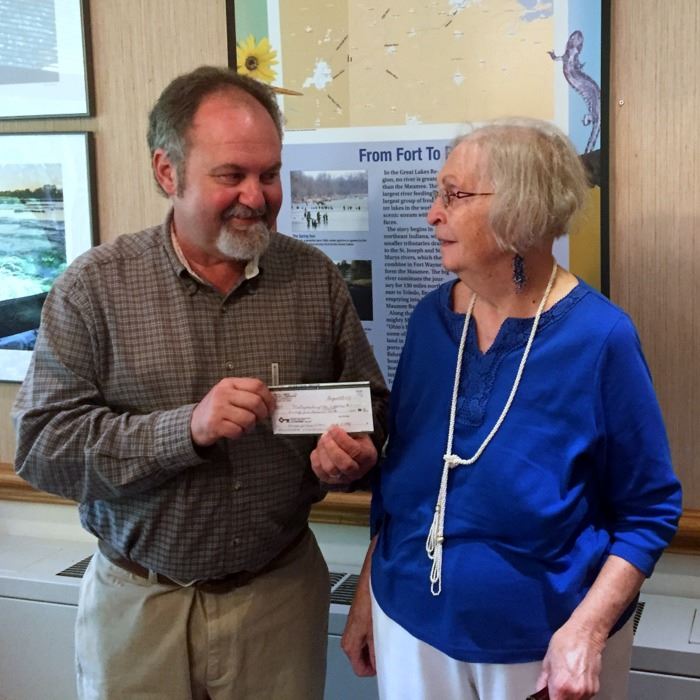 The Metz Visitors Center at Wildwood Preserve is named for a man who made many contributions to Metroparks, Robert Metz. Another contribution from his widow, Betty Metz, will now care for the network of trails that begins just beyond the distinctive arch in the center of the building.
Mrs. Metz's gift of $25,000 will go toward the maintenance of the trail system enjoyed by a great many of Wildwood's 1 million annual visitors.
Bob Metz served as Toledo's forestry commissioner before being named assistant director of Metroparks in 1966. Two years later, he became director of the park district, a position he held until his retirement in 1985.
During his tenure, Metroparks passed its first tax levy, opened its first park in the Toledo city limits, Swan Creek Preserve, and passed a special tax levy to acquire the former Stranahan Estate, which became Wildwood.
"Bob and Betty shared a passion for the outdoors and Metroparks in particular," said Art Weber, who worked closely with Mr. Metz as the park district's public information manager. "Wildwood, of course, would have never happened if not for Bob's leadership and tireless efforts in saving the preserve. It is arguably his greatest achievement among many in his nearly 20 years as director."
Just as noteworthy as his key role in saving the preserve, Weber added, was Mr. Metz opened the Metropark to the public with "sensible improvements meant to make its natural beauty available for public enjoyment without destroying those very qualities by overuse."
Trails and trail maintenance, he added, were always a very high priority for him.
"This gift is absolutely in character for Bob and Betty, and their lifelong work to celebrate nature," he said.