Librarian Picks Books Focusing on Spooky Fun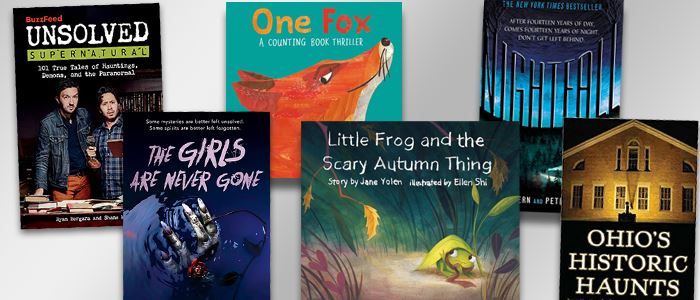 Recommended reading on nature-related topics from librarians at the Toledo Lucas County Public Library.
Little Frog and the Scary Autumn Thing
By: Jane Yolen
"It's Little Frog's first autumn, and she doesn't like it one bit. It is not the green world she loves so much, but something scarier and ominous, filled with red and gold and yellow. And noise! WHIRRRRR. CHIRRRR. BAROOOOOOM. But encouraged by her Mama, who reminds her that "Most things that are scary are just new," Little Frog bravely sets out into this world. When her courage waivers, she starts to run and soon is lost, miserably lost. She finds her way to Papa Frog and he shows her what Mama Frog means." -- Amazon website.
Find it at your Library: [ Book ]
One Fox: A Counting Book Thriller
By: Kate Read
"One hungry fox with two sly eyes is on the prowl . . . three plump hens had better watch out! Rich and colorful illustrations plunge the reader into a dramatic and exciting story set in a moonlit farmyard. With something different to count on each page, this gripping tale introduces page-turning tension to young readers in an age-appropriate way." -- Amazon website.
Find it at your Library: [ Book ]   
The Girls are Never Gone
By Sarah Glenn Marsh
"Dare Chase doesn't believe in ghosts. But as the host of Attachments, her brand-new paranormal investigation podcast, she knows to keep her doubts to herself if she wants to win over listeners. Her first season's subject is the Arrington Estate—a sprawling manor rumored to be haunted by the spirit of Atheleen Bell, who drowned in its lake almost thirty years ago. As Dare is drawn deeper into the mysteries of the estate, she'll have to rethink the boundaries of what is possible. Because if something is lurking in the lake…it might not be willing to let her go." -- Amazon website.
Find it at your Library: [ Book ] [ eBook]
Nightfall
By Jake Halpern
"The dark will bring your worst nightmares to light in this gripping and eerie survival story, perfect for fans of James Dashner and Neil Gaiman." – Overdrive.com
Find it at your Library: [ Book ] [ eBook ] [ eAudio ]          
Buzzfeed Unsolved Supernatural: 101 True Tales
By Ryan Bergara and Shane Madej
"Based off one of the most popular web series on the internet, Ryan Bergara and Shane Madej present BuzzFeed Unsolved Supernatural, 101 of the scariest, spookiest, and creepiest locations around the USA and a few abroad, with 50 percent brand-new content and locales exclusive to the book." – Overdrive.com
Find it at your Library: [ Book ] [ eAudio ]              
Ohio's Historic Haunts: investigating the paranormal in the Buckeye State
By James A. Willis
"Many of Ohio's historically significant locations have developed a reputation for being haunted. Rather than rely on second-and third-person accounts, author and paranormal researcher James A. Willis sat down with the owners, employees, and patrons of Ohio locations that are said to be haunted-the Arts Castle in Delaware, the Fairport Harbor Marine Museum, the Haunted Hydro in Fremont, Loveland Castle, the Merry-Go-Round Museum in Sandusky, the Ohio State Reformatory in Mansfield, the Zanesville Community Theatre, and many others." – Hoopladigital.com
Find it at your Library: [ Book ] [ eBook ]