Librarian Picks Books Focusing on Spring Gardening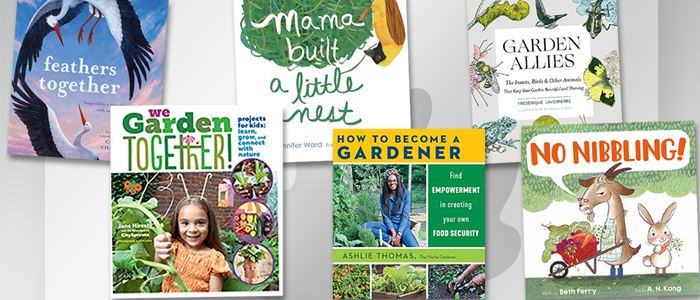 Recommended reading on nature-related topics from librarians at the Toledo Lucas County Public Library.
No Nibbling!
By: Beth Ferry
Derwood the goat has planted a garden and is prepared to defend it from all nibblers, including Tabitha the bunny, whom Derwood is convinced has designs on his growing vegetables; she teases him as the months go by, but after she helps him with the weeding the two become friends and share the feast.
Find it at your Library: [ Book ] [ Libby eBook ]
Garden Allies: The insects, birds, & other animals that keep your garden beautiful and thriving
By: Frédérique Lavoipierre
An illustrated guide to the animals and insects that live in our yards and gardens and act as helpful friends by pollinating and keeping pests in check and includes information on welcoming and nurturing these creatures. Illustrations by Craig Latker.
Find it at your Library: [ Book ]
We Garden Together!: Projects for kids : learn, grow, and connect with nature
By: Jane Hirschi and the Educators at CitySprouts
"Kids don't need a big backyard or outdoor space to learn about gardening and how plants grow. This introductory garden book, packed with photos of 3 to 6 year olds in action, features hands-on planting and growing activities that can be done in a small yard, classroom, or community garden. Written by the staff of City Sprouts, a leading educational organization in promoting urban gardening and equitable access to nature, each activity--from Sorting Seeds to Going on a Worm Hunt to Planting a Tasty Salad--encourages kids to roll up their sleeves and learn about seeds, planting, and gardening. Step-by-step photos and on-the-page discovery prompts, presented in a lively design, make it easy and inviting for kids everywhere to become plant lovers and nature explorers." -- Publisher's website.
Find it at your Library: [ Book ]
How to Become a Gardener: Find empowerment in creating your own food security
By: Ashlie Thomas
Take charge of your family's food security by learning how to grow your own fruits, vegetables, and herbs-and right along with them, you'll nurture your own inner strength, too. Food insecurity affects millions of people worldwide. Without access to well-stocked stores or nutritious, fresh foods, those living in "food deserts" face more hunger and health issues than communities where a diversity of food is plentiful. With the inspiration and knowledge found in How to Become a Gardener, self-reliance and food autonomy are within reach for anyone willing to get a little dirt under their nails and dig in -- Amazon.com.
Find it at your Library: [ Book ] [ hoopla eBook ]
Mama Built a Little Nest
By: Jennifer Ward
Illustrations and simple, rhyming text introduce different kinds of birds' nests, from the scrapes falcons build on high, craggy ledges to the underground nests burrowing owls dig. Includes brief facts about each kind of bird.
Find it at your Library: [ Book ]
Feathers Together
By: Caron Levis
Stork friends Malena and Klepetan look forward to the next migration from Croatia to South Africa, but when Malena is injured and can not join the flock, their time apart brings many challenges and big feelings, pushing them to stay connected and hope for a spring reunion.
Find it at your Library: [ Book ]