Librarian Picks Books Focusing on Summer Picnics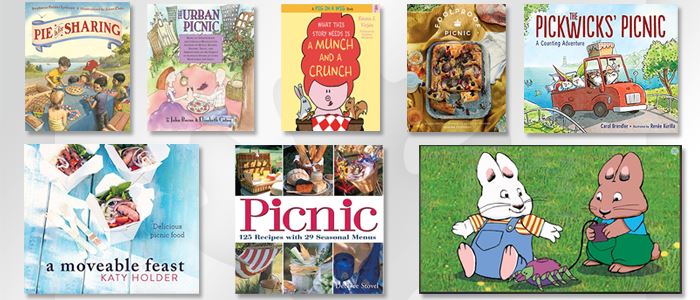 Recommended reading on nature-related topics from librarians at the Toledo Lucas County Public Library.
Pie is for Sharing
By: Stephanie Parsley Ledyard
A picnic, a beach, a pie cut into pieces and shared with good friends. Pie is for sharing. It starts off round, and you can slice it into as many pieces as you want. What else can be shared? A ball, of course. A tree? What about time? Through the course of one memorable Fourth of July picnic, Stephanie Ledyard and Jason Chin take young readers through the ups and downs of sharing in this lovely picture book. –Taken from Amazon.com
Find it at your Library: [ Book ]
The Pickwicks' Picnic
By: Carol Brendler
After a canine family leaves the hot hazy city for a picnic by the shore, they run into a traffic jam crammed with vehicles ranging from one pickup to ten troopers' cruisers, consequently creating an unexpected opportunity for a picnic.
Find it at your Library: [ Book ] [ hoopla eBook ]
What this Story Needs is a Munch and a Crunch
By: Emma J. Virján
Join Pig and her friends in another fun read-aloud adventure as they figure out a way to keep the picnic fun and games going, even with a little rain. What this story needs is a pig in a wig baking bread, pouring punch, and meeting a friend for a picnic lunch. But just as the outdoor fun and games get started, a thunderstorm rolls in and it turns out what this story really needs is . . . another place to eat!
Find it at your Library: [ Book ] [ hoopla eBook ] [ hoopla eAudio ]
Max's Picnic
Directed by: Meg Carney
Max joins Ruby and Louise on a backyard bird watching expedition. But Max is far more interested in Ruby's picnic basket than he is in finding the elusive Speckled Warbler.
Find it at your Library: [ Kanopy ]
A Moveable Feast: Delicious Picnic Food
By: Katy Holder
"Whether you're planning a picnic in the park or an outdoor birthday party, you'll need food that looks good, tastes great -- and travels well! These tried and true recipes from Katy Holder are suitable for every moveable occasion, whether you want to make sweet treats or bigger bites. Having a moveable feast has never been so easy or so tasty!" -- Back cover.
Find it at your Library: [ Book ]
Foolproof Picnic: 60 Delightful Dishes to Enjoy Outdoors
By: Marina Filippelli
"Discover 60 simple, easy-to-share recipes that celebrate throwing down a blanket and enjoying the sunshine. Marina Filippelli, food stylist and writer, offers up perfect summer recipes you'll want to make time and time again. With everything from delicious sandwiches, savory snacks and dips to portable pies, tarts and frittatas, summer salads, sweet things and a selection of drinks - this book is the ultimate guide to taking your picnic to the next level."-- From publisher description
Find it at your Library: [ Book ]
Picnic: 125 Recipes with 29 Seasonal Menus
By: DeeDee Stovel
Create delicious and portable feasts for any occasion. Whether you're headed to a neighborhood park, an elegant music festival, or the top of a mountain, DeeDee Stovel shows you how to create a tasty outdoor dining experience. With 125 recipes that include dishes like cucumber soup, lobster rolls, fried chicken, and apple cake, you'll be amazed at the variety of foods that are well-suited for outdoor eating. Call up your friends, grab a blanket, and fill up your picnic basket!
Find it at your Library: [ hoopla eBook ]
The Urban Picnic
By: John Burns & Elisabeth Caton
Urban picnics are a hot foodie trend right now; from The Economist to Le Monde, food journalists and lovers the world around are jumping on the blanket. Like so many of us, they want to put their hectic city lives on hold and enjoy themselves-without having to head off into the hinterland. The Urban Picnic is designed for modern gourmands and kitchen newcomers alike to inspire them to introduce a little pleasure and picnickery into their lives. With an irreverent and highly opinionated history of the picnic, strange accounts from the nineteenth and twentieth centuries, original illustrations and over 200 recipes- it's the essential how-to (and how-not-to) for anyone who was ever looking for a tasty little morsel to eat under that tree that grows in Brooklyn.
Find it at your Library: [ Book ] [ hoopla eBook ]