Librarian Picks Books Focusing on the Holiday's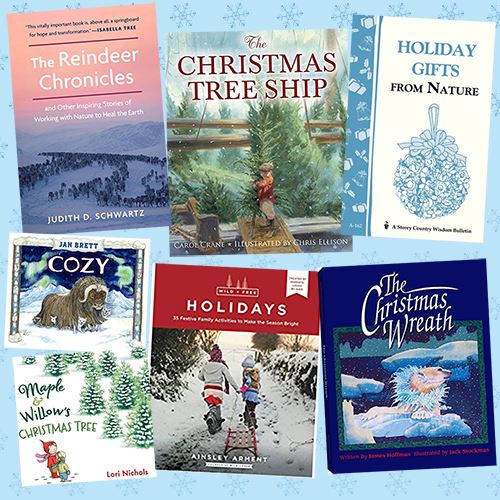 Recommended reading on nature-related topics from librarians at the Toledo Lucas County Public Library.
Maple & Willow's Christmas Tree
By: Lori Nichols
"Sisters Maple and Willow get their first real Christmas tree, only to discover that Maple is allergic to it" -- Provided by publisher.
Find it at your Library: [ Book ]
The Christmas Tree Ship
By: Carol Crane
On November 21, 1912, the schooner Rouse Simmons set sail from a small northern Michigan town across Lake Michigan. Affectionately dubbed the 'Christmas Tree Ship,' this was an annual trek for the Rouse Simmons. With its cargo of Christmas trees, the ship was bound for Chicago. There Captain Herman Scheunemann would sell the trees for 50 cents or $1.00 and even gave many away to needy families. But the schooner never makes its destination. The Rouse Simmons, with all hands and cargo, disappears into the cold waters. The ship's wreckage is not found until 1971. Drawing from stories told by her grandfather, author Carol Crane weaves a fictional tale based on the true events of the doomed schooner. And she explains how the captain's widow went on to continue his tradition of delivering holiday trees to Chicago. (From hoopla)
Find it at your Library: [ Book ] [ hoopla eBook ]
Wild + Free Holidays: 35 Festive Family Activities to Make the Season Bright
By: Ainsley Arment
"Create new holiday traditions your family will treasure. When autumn rolls around, what could be better than gathering your family and making memories together? Ainsley Arment and the Wild + Free community have curated a festive selection of holiday-themed crafts, activities, recipes, and new traditions that parents and children will enjoy, such as: Pumpkin-Beeswax Harvest Candles; Storybook Ornaments ; Holiday Crowns ; Homemade Wrapping Paper ; Arroz con Leche ; and more!" -- Back cover.
Find it at your Library: [ Book ]
The Reindeer Chronicles
By: Judith D. Schwartz
Schwartz explores regenerative solutions across a range of landscapes: deserts, grasslands, tropics, tundra, Mediterranean. She also highlights various human landscapes, the legacy of colonialism and industrial agriculture, and the endurance of indigenous knowledge.
The Reindeer Chronicles demonstrates how solutions to seemingly intractable problems can come from the unlikeliest of places, and how the restoration of local water, carbon, nutrient, and energy cycles can play a dramatic role in stabilizing the global climate. Ultimately, it reveals how much is in our hands if we can find a way to work together and follow nature's lead. (From hoopla)
Find it at your Library: [ eBook ] [ eAudio ] [ hoopla eAudio ]
The Christmas Wreath
By: James Hoffman
A Christmas miracle involving a hungry polar bear, the beauty and stillness of a North Pole night, the watery world below the ice and a Christmas wreath mysteriously transformed into a wondrous, one-of-a-kind work of nature and art to greet Santa upon his return home.
Find it at your Library: [ Book ]
Cozy
By: Jan Brett
The coat of a huge wooly musk ox named Cozy is the winter home for a growing number of Alaskan animals who mostly get along.
Find it at your Library: [ Book ] [ eBook ]
Holiday Gifts from Nature
By: Cornelia M. Parkinson
Since 1973, Storey's Country Wisdom Bulletins have offered practical, hands-on instructions designed to help readers master dozens of country living skills quickly and easily. There are now more than 170 titles in this series, and their remarkable popularity reflects the common desire of country and city dwellers alike to cultivate personal independence in everyday life.
Find it at your Library: [ eBook ] [ hoopla eBook ]