Meet Zurijanne Carter, a Conservation Leader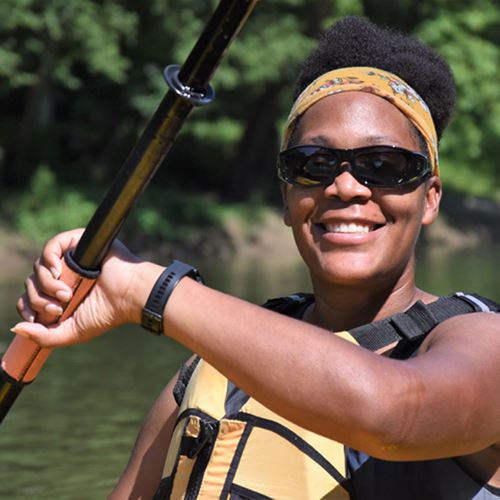 While passing through the Toledo area on her many trips between Michigan and Pennsylvania, Zurijanne Carter often wondered about those signs on US 23 that say, "Entering the Oak Openings Region."
"Every time I made the trip, I thought to myself, 'I'm going to go there one day,'" she said. "My childhood home had three massive (water, willow and white) oaks in the yard along with a dozen or so loblolly pines. So oaks hold a special place in my heart."
She did not know then that the road would be a winding one that eventually led back to Toledo, or that those oaks would play an important part in her career.
In September 2022, Zurijanne – Zuri, for short – was named deputy chief natural resources officer for Metroparks Toledo, where she oversees diverse natural resources across Lucas County -- none more diverse than the Oak Openings.
Much larger than the Metropark with the same name, the Oak Openings Region is a globally distinct ecosystem once designated by The Nature Conservancy as "One of the 200 Last Great Places on Earth."
In her new role, Zuri would be part of the team at Metroparks and the Green Ribbon Initiative, a partnership of agencies and individuals, managing one of the world's "Last Great Places."
Those trips on US 23 were between East Lansing, where she was pursuing a Master's degree in human dimensions of wildlife management at Michigan State University, and Kane, PA, where her husband, Roosevelt, worked for the U.S. Forest Service in the Allegheny National Forest.
Human dimensions is a section of natural resources management that focuses on the values, attitudes and behaviors of people, Zuri explained. "For example, policies created by people in response to environmental impacts or interactions -- either natural or human-caused -- can affect natural resources management," she said.
"After I completed the degree, I moved back to Pennsylvania for the summer before accepting a job in Cincinnati in fall of 2015 as a conservation biologist," said Zuri, who also holds a Bachelor's degree in wildlife and fisheries biology from Clemson University.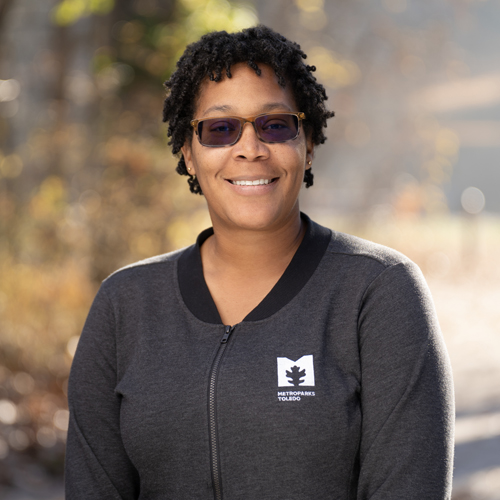 It was in that role that she met Tim Schetter, chief natural resources officer for Metroparks Toledo, whom she had contacted while researching a natural resources management technique. They reconnected after Tim gave a presentation at a national conference about the Metroparks natural resources program. Zuri, who was now natural resources supervisor for Mecklenburg County in Charlotte, NC, contacted him to ask about the park system's use of GIS for natural resources management.
"I first connected with Zuri in 2016 through her work as a conservation biologist at Great Parks of Hamilton County and the Ohio Community Wildlife Cooperative," Tim said. "I was immediately impressed by the thoroughness of her study, which I found very helpful."
In 2022, Zuri heard from Metroparks again, this time from Felica Clark, director of diversity, equity and inclusion, who invited her to visit Toledo.
"The trip was a cold one, but it was an amazing opportunity to see what Metroparks Toledo was doing and striving for in conservation and the community, plus the pride that everyone had in their parks that really resonated with me.
The reason for the visit was more than just a friendly tour.
"In 2021, when I began working on a succession plan for the natural resources division, Zuri was the first person who came to my mind as someone who's talents and dedication would be instrumental in helping us achieve our vision of being national leaders in conservation," Tim said.
"During her visit, it was immediately clear to me and our entire natural resources team that Zuri's technical knowledge, passion for conservation, leadership ability and collaborative spirit were exactly what we needed to drive our work forward," Tim added.
Now settled in the Toledo area, Zuri is immersed in "The Oaks" as well as the Great Black Swamp, the Maumee River watershed, Lake Erie coastal zone and other eco-regions that make up northwest Ohio's rich tapestry of habitats.
Metroparks Toledo manages nearly 13,000 acres of land, more than 80 percent of which is preserved as natural areas. Founded in 1928 to "conserve the natural resources of Lucas County," the park system turns 95 August 1.
The earliest Metroparks (Side Cut in Maumee was the first) were created during the Great Depression by workers of the Civilian Conservation Corps and Works Progress Administration. In the 1970s, Swan Creek, in Toledo, and Wildwood Preserve, at the intersection of Toledo, Ottawa Hills and Sylvania Township, created the nine Metroparks that constituted the park system for 40 years. In the last decade, the number of parks more than doubled, with four parks now in the Toledo city limits – a total of 19 Metroparks plus over 200 miles of trails.
With those additions came new natural resources challenges. Some parks, such as Middlegrounds downtown and the newest Metropark, Glass City in East Toledo, had little natural integrity to preserve. Instead, Metroparks had to create it. The result is former abandoned industrial sites reborn as destinations for both people and wildlife.
Zuri said her work consists of strategic planning and implementation of natural resources initiatives to address issues such as biodiversity, habitat fragmentation, water quality and climate change.
A major project starting soon consists of restoring and improving habitat for fishes and macroinvertebrates in the Maumee River. The project involves reducing erosion by stabilizing the banks of Audubon Islands, a group of islands in the river between Maumee and Perrysburg owned by Metroparks and designated as a State Nature Preserve.
She is also continuing reforestation efforts throughout Lucas County, working with partners such as City of Toledo to increase tree canopy to reduce land surface temperatures, provide habitat, and improve water and air quality.
"Toledo is the little-big city we've come to enjoy being in. There's so much to do here, and we are glad to call this our home," Zuri said.
Through their work to preserve and restore the region's natural heritage, Zuri and her coworkers in the Metroparks natural resources department are making the "little-big city" and all of Lucas County cleaner, greener and more beautiful for generations to come.