Mercy Health Gift Advances Riverwalk Development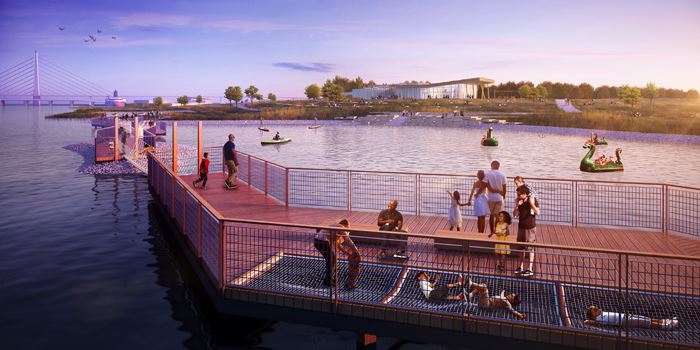 Glass City Metropark and Glass City Riverwalk are gaining momentum with the announcement today of a $1 million gift from Mercy Health.
"Mercy Health's gift and endorsement of this vision will help advance one of the most ambitious public projects in our region in many years," said Ally Effler, Chief of Philanthropy for Metroparks Toledo. "As part of the comprehensive Glass City Riverwalk initiative, the Metroparks Toledo Foundation is seeking philanthropic support from generous donors. These funds, along with support from a tax levy approved by voters in November as well as state and federal grants, will transform our riverfront into the gem we always knew it could be."
Construction of Phase 2 of the Metropark is set to begin next month. When it is finished in late 2022 or early 2023, it will complete a major part of the larger Riverwalk project, which will create 300 acres of greenspace along the east side and downtown banks of the Maumee River. The five-mile greenway will connect six neighborhoods and transform the city's riverfront, attracting private development and enhancing the quality of life in the region.
Metroparks will acknowledge Mercy Health's gift at The Cove, a river access that will be part of phase 2 development at the East Toledo Metropark. The new area will be a hub of water-based activity, such as kayaking, fishing and other recreational and wellness activities. An adventure play boardwalk beginning at The Cove will extend over the water, with fun features such as cargo netting.
Object reference not set to an instance of an object.
The Cove, which will have a roll-off kayak launch, will also be the 40th access point along the 107-mile Maumee River State Water Trail from the Indiana border to Maumee Bay.
"At Mercy Health, our commitment to health extends beyond the walls of our facilities. We want to empower our community to take charge of their own health and well-being while enjoying the natural surroundings this region has to offer," said Bob Baxter, president, Mercy Health - Toledo. "Mercy Health is honored to once again partner with Metroparks Toledo to support this initiative and invite residents and visitors alike to enjoy this new access to water activities of all kinds."
The gift is in addition to a multi-year commitment Mercy Health made to partner with Metroparks on new facilities that promote healthy outdoor activities. The first of five FitParks, an outdoor fitness area at the east entrance to Wildwood Preserve, opened in 2018. FitPark: Paddle, a kayak concession, opened in 2019 at Farnsworth, and FitPark: Ride, a mountain bike skills course, opened the same year at the Beach Ridge Area in Oak Openings Preserve.
"Mercy Health's continued support of Metroparks has added new features to the park system that provide recreational opportunities for more than 6.5 million visitors a year," said Dave Zenk, executive director of Metroparks Toledo. "Since Mercy Health first approached us several years ago, we have had an ongoing, creative partnership that has enhanced the Metroparks in exciting new ways, bringing new people into the Metroparks to enjoy the many benefits parks provide."
---
Riverwalk Progress
A bike/pedestrian bridge over Main Street, connecting Glass City and International Parks, is under construction
Development of phase 2 Glass City Metropark will be underway this summer and include an ice skating ribbon, adventure playscapes and a restaurant
Engineering is underway for International Park, which will become a Metropark
Metroparks Toledo has acquired key parcel of riverfront land in the Vistula District, just upriver from the Craig Bridge