Mercy Health, Metroparks Dedicate FitPark: Climb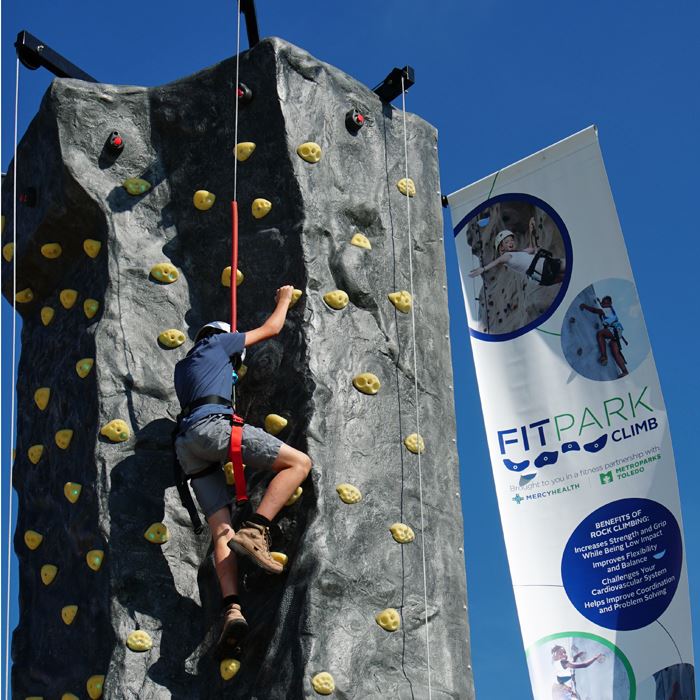 Mercy Health Foundation and Metroparks Toledo today unveiled the latest in a series of outdoor recreation activities, FitPark: Climb, a portable rock climbing simulator.
The 32-foot-tall wall made by Spectrum Sports International can accommodate five climbers at a time, with a pulley and safety harnesses for each climber. It is mounted to a trailer so it can travel to various locations.
"When Mercy Health and Metroparks Toledo started on the journey to offer unique and healthy ways to enjoy the parks, we envisioned areas where visitors of all abilities would be challenged to get fit while enjoying the outdoors," said Bob Baxter, president, Mercy Health – Toledo. "We can now add rock climbing to the list of opportunities already available to community members as they seek enrichment of mind, body and spirit."
The Mercy Health Foundation is donating $100,000 a year for five years to fund the purchase and installation of FitParks. Each unique FitPark provides healthy, free or low-cost outdoor recreation opportunities.
The first FitPark, with outdoor exercise equipment, opened in 2018 at Wildwood Preserve. FitPark: Paddle, a kayak landing at Side Cut and the region's first "kayak share" at Howard Marsh, opened in 2019. FitPark: Ride, a mountain bike skills course with 21 obstacles, also opened in 2019 at Oak Openings Preserve.
FitPark: Climb will be used at various events including Metroparks annual Outdoor Expo, Saturday, September 18 at Blue Creek Metropark in Whitehouse. It will also be part of an event sponsored by the NAACP and Metroparks Sunday, September 12 at Glass City Metropark, which will bring climbing, kayaking, mountain biking and other outdoor activities to the banks of the Maumee River in East Toledo.
The wall was first used during Jeep Fest weekend, when an estimated 700 kids tested their climbing skills at Hensville Park downtown.
"FitParks are a concept developed between our two organizations to add new facilities and activities in the Metropark," said Dave Zenk, executive director of Metroparks Toledo.
"It is a wonderful example of a creative partnership that serves both of our goals – Mercy Health's advocacy of healthy lifestyles and Metroparks efforts to create memorable outdoor experiences," Zenk added. "Working together, we are getting people more active and, we believe, sparking a lifelong love of the outdoors."
__
Photos: Students from Lial School in Whitehouse attended a news conference to demonstrate the climbing wall.
Object reference not set to an instance of an object.