Metroparks Toledo Receives National Conservation Innovation Award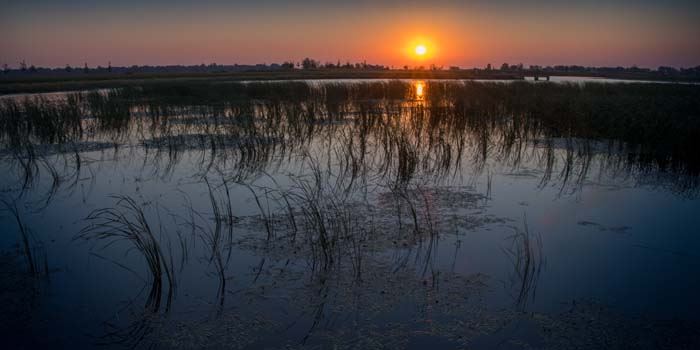 The National Recreation and Park Association has selected Metroparks Toledo to receive the national Innovation in Conservation Award for its newest park, Howard Marsh, in Jerusalem Township.
"This is the biggest award yet in a growing list of national honors for this project," said Dave Zenk, executive director of Metroparks Toledo.
The park system is competing with three finalists from other categories for the overall Best in Innovation Award and will be recognized at the 2019 NRPA Annual Conference, September 24–26, in Baltimore.
According to NRPA, the Innovation Awards recognize park and recreation agencies nationwide that have improved and strengthened their communities through innovative practices in park design, health and wellness, conservation and social equity. Specifically, the award recognizes an agency leading an innovative project that creates localized solutions for addressing global or regional environmental challenges.
"NRPA is proud to recognize innovation in parks and recreation with these awards," said Kristine Stratton, NRPA president and CEO. "Congratulations to this year's winners who have demonstrated their commitment to building communities through innovative park and recreation practices."
To learn more about the NRPA Innovation Awards, click here.
About Howard Marsh
The conversion of 1,000 acres of agricultural land near the Lake Erie shore back to coastal wetland habitat was the largest project in the 90-year history of Metroparks Toledo, and the largest wetland restoration in recent memory on all of the Great Lakes.
"Howard Marsh is also one of our most important projects from an ecological standpoint, and extremely timely for our region given the water quality issues we've experienced with Lake Erie," Zenk said.
Opened in late April 2018, Howard Marsh Metropark now offers habitat for migrating birds and spawning fish in a region famous for warblers and walleyes. The park has six miles of hiking trail and six miles of water trail for kayaking, as well as a quarter-mile boardwalk and overlooks for observing a wide range of wildlife.
Object reference not set to an instance of an object.
In the 14 months since the park opened, more than 260 species of birds have been documented at Howard Marsh on the popular birding website e-Bird – about half the total number of bird species ever documented in the entire state. White pelicans, sandhill cranes and yellow-headed blackbirds are among the birds that have attracted thousands of visitors this spring. For the second season this year, rare black-necked stilts are nesting on the marsh.
Other Recent Awards
Howard Marsh was the recipient of the 2019 Governor's Award, an overall best of show honor, from the Ohio Parks and Recreation Association. The project was also the 1st place winner in a category for capital improvements over $1 million.
Members of the Metroaparks Toledo staff who were involved with the Howard Marsh project received OPRA's Jack Hanna Resource Conservation Award each of the last three years: Tim Schetter in 2017, Denis Franklin in 2018, and Tim Gallaher in 2019
This spring, Ducks Unlimited, a partner in the project, awarded Howard Marsh its 2019 Wetland Conservation Achievement Award.
Also this year, the marsh received top honors for facilities development from the National Association of Country Parks & Recreation Officials and the Great Lakes Park Training Institute 
National Recreation and Park Association
NRPA a national not-for-profit organization dedicated to ensuring that all Americans have access to parks and recreation for health, conservation and social equity. Through its network of 60,000 recreation and park professionals and advocates, NRPA encourages the promotion of healthy and active lifestyles, conservation initiatives and equitable access to parks and public space. For more information, visit www.nrpa.org. For digital access to NRPA's flagship publication, Parks & Recreation, visit www.parksandrecreation.org.