Owens Corning Foundation Gift Advances Riverwalk Vision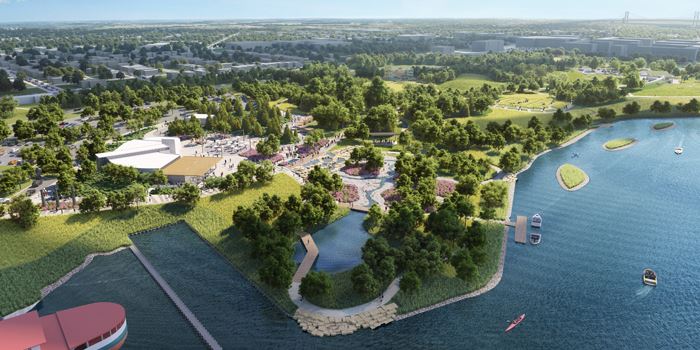 A major financial contribution from the Owens Corning Foundation is another step toward creating a continuous five-mile greenway along both sides of the Maumee River in downtown and East Toledo.
The $1 million donation will help fund the development of Glass City Riverwalk, which will connect six neighborhoods, improve water quality in the Maumee River and Lake Erie, and create a regional destination.
"We are pleased to support the revival of Toledo's riverfront and continue the positive momentum underway downtown," said Owens Corning Chairman and Chief Executive Officer Brian Chambers. "This is truly a once-in-a-generation opportunity to transform our community by preserving and providing more equitable access to greenspace for all Toledo residents."
Riverwalk will connect Middlegrounds Metropark with Glass City Metropark, along with other parks, businesses, neighborhoods and corporate campuses – including the Owens Corning world headquarters – between the Anthony Wayne Bridge and Veterans Glass City Skyway.
"Like the Cannaley Treehouse Village, Riverwalk will be the result of the community coming together around a shared vision," said Joe Napoli, chairman of the board of the Metroparks Toledo Foundation, which is focused on raising philanthropic support for one of the largest projects in Metroparks history. "The Owens Corning Foundation's early leadership support is a demonstration of our community's commitment to this initiative and adds momentum to one of the most significant projects in our region in decades."
Glass City Metropark Phase 1 opened in December between Front Street and the river, and has already attracted a major new residential and commercial development. A new bike/pedestrian bridge will be under construction soon, connecting the new park with International Park on the opposite side of Main Street.
Metroparks will break ground this summer on Phase 2 of Glass City, which will include an ice skating ribbon, adventure play area and other amenities. A campground and picnic areas will be added in the next few years. Other future developments that will be part of Riverwalk include the renovation of International Park, a Toledo City Park that will become a Metropark.
"A big thanks to the voters who passed Issue 17 and to the members of our business community who embraced the idea that Toledo's waterfront could be both a lasting resource for our region and an important piece in the conservation/preservation puzzle," said Scott J. Savage, president of the Metroparks Board of Park Commissioners.
"It is encouraging to see developers already investing in the area's economic growth and people excited about all that's planned," Mr. Savage added. "Riverfront development has been talked about many times before, but it took this community of people at this time to recognize the potential and commit to making it happen. I'm certain we will all be grateful to the people, the businesses and the leaders of Lucas County for generations to come."