Park People: Judy Egan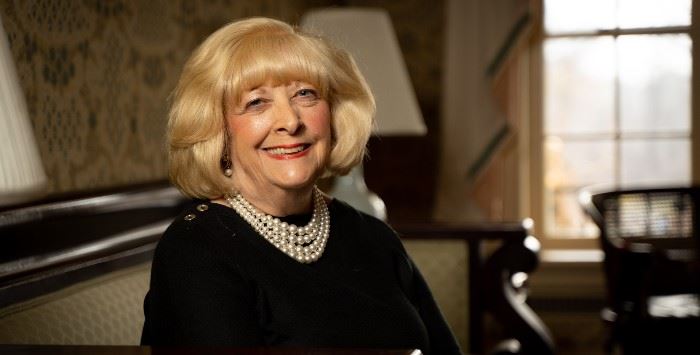 Judy Egan
Grew up in Van Dyke, Michigan which later became Warren, Michigan, a suburb of Detroit.
How do you lend a hand at Metroparks?
It is my pleasure to be rather involved with Metroparks Toledo. I serve as chair of Tea in the Manor House along with co-chairs Wanda, Diane and Debbie and coordinate table service during the monthly teas. I am also a Docent and provide tours of the Manor House and serve on the Interior Restoration Committee. Additionally, I am the Board President of the Manor House Volunteers.  This executive committee is comprised of the chairpersons of the Manor House subcommittees. In addition, I help out at the Volunteers in the Park pancake breakfasts. I've also volunteered as a receptionist at the administration office. 
How long have you volunteered at Metroparks?
I have been a volunteer for l4 years, since retiring from teaching. 
Why do you give back to your community?
It has always been important to me to give back in some kind of capacity. It enriches my life, meeting other people who also feel the same way. It is important to preserve and protect what has been given to us, to make it accessible to the community, and to enrich their experience as well. 
Why do you volunteer at Metroparks?
While I also volunteer with other community organizations, my heart belongs to the Manor House at Wildwood Preserve Metropark. It is such a reflection of an era long gone and an integral relationship with the car industry. I was a history teacher and this house reflects an era that needs to be remembered. This house is so connected to a large part of what was the business world of the 30's, 40's, 50's and 60's. It is the teacher in me that comes out when I docent. I love to share the history of the house and the historic eras. It is more than giving a tour, it is giving a part of the history of our nation and those that helped build it. 
Your favorite park, trail or activity at Metroparks?
It goes without saying that my favorite park is Wildwood because of all it has to offer not only with the Manor House but the other buildings as well. There are many activities here which enrich the general community and my favorite is Holidays at the Manor House, which seems to bring a great deal of joy to all of us. A community spirit is reflected in this event. 
What would people be surprised to know about you?
This is a tough one. Toledo was a transfer for us, and what a wonderful transfer it turned out to be. This was a great area to raise a family. I guess that I have attended activities at the White House, including a formal reception there, might be something that others would not know about me. 
What is the best thing (or some of the best things) about volunteering at Metroparks?
The very best thing about volunteering at Metroparks is the friendships and associations with wonderful volunteers and great staff. These are a treasure to me or the sprinkles on the cupcake. It is a joy to be a part of these activities and to see what differences can be made.