Park People: Lott-Conlon Foundation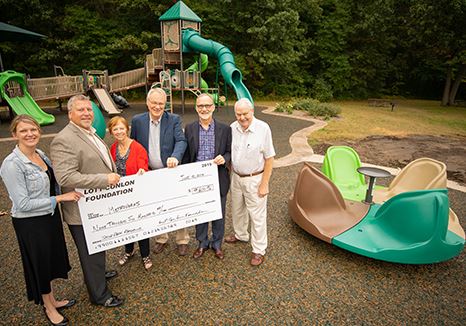 Meet the Lott-Conlon Foundation, who has provided financial support to help provide some incredible fully-inclusive experiences at our Metroparks.
Since its formation in 1991, the mission of the Lott-Conlon Foundation has been to provide financial support to projects and not-for-profit organization activities designed to foster inclusion and enhance access for the disabled — whether for work, community or play.  
The Lott-Conlon Foundation has provided grants for two special Metroparks projects that help provide access.  Last year, their support purchased and installed the Merry-Go Round and ADA Xscape swing at our new Secor Metroparks barrier-free playground.  Thanks to their gift, children of all abilities can enjoy this playground without limitation.
This year, The Lott-Conlon Foundation provided support for a second inclusive project at the Metroparks, a new accessible garden at Toledo Botanical Gardens.  The finished garden will offer wheelchair accessible garden beds, ADA seating within a pergola, a sensory water wall, and plantings with olfactory and touch sensory components.  The special place is set to open in 2020, coinciding with The Ability Center's 100th Anniversary.
Metroparks Toledo has worked with advocates for people with disabilities for years to make playgrounds, trails and other park amenities accessible to everyone. The support and advice of organizations like Lott-Conlon, the Ability Center of Greater Toledo and others has been invaluable to achieving our shared goal of inclusion.
We thank the Lott-Conlon Foundation for going above and beyond to help us create incredible experiences in our Metroparks for people of all abilities.