Park People: Mary Steinhauser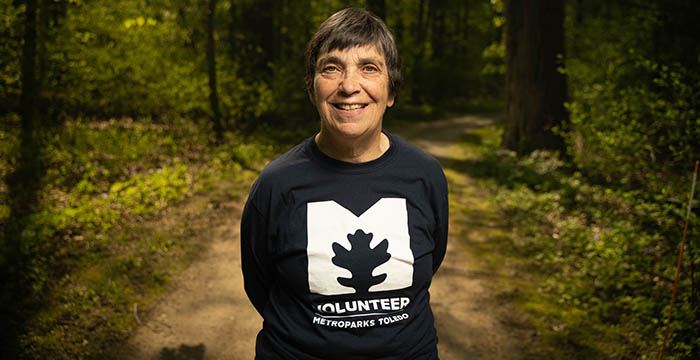 Mary Steinhauser
Currently live in LaSalle, MI but from Upper Sandusky, Ohio on the upper part of the Sandusky River south of Fremont and Tiffin, Ohio. 
How do you lend a hand at Metroparks?
I volunteer counting butterflies once a week April through the end of October at Wildwood. I used to help Eileen and other volunteers counting the residents of vernal pool at Oak Openings. I VTP at Pearson once a week with Robin Duffin; this year enjoying the birders and wildflowers and lead grade-school nature walks for class field trips. 
Sometimes, I volunteer at events like Glass City Marathon informing people about Metroparks programs. Helping at the Manor House at Christmas time is always fun. Helping at the summer 5K race series is also a blast. 
Attending excellent, educational training events like Ohio State Volunteer naturalist and rover presentations. 
Also, rove at Wildwood with Juanita, Kate, Tim, Sue, and others in warmer weather explaining animals who live in this protected Metropark environment. 
How long have you volunteered at Metroparks? 
I have been volunteering for the Metroparks since 2010. 
Why do you volunteer at Metroparks? 
I started volunteering in 2010 to pay back all the running that I have done in the parks. It has taught me all that I have missed running by flowers, trees, animals, and vernal pool inhabitants. 
Why do you volunteer at Metroparks?
I encourage my grandchildren to enjoy all types of Metropark adventures. Uncle Bill and Aunt Grace took me out on nature adventures, mushroom hunting, wildflower and tree appreciation and I am passing on the tradition. 
Your favorite park, trail or activity at Metroparks?
Currently, my favorite park is Pearson. The wildflowers this year are the best I have ever seen. Last year, it was the turtle and deer sightings that thrilled me. 
What would people be surprised to know about you?
My husband and I have run a marathon in all of the 50 states. Now I am working on half marathons in all 50 states. In my 113 half marathons, I have managed 18 states so far. I also help Dave's running group individuals learn to start their running careers. It is fun meeting each seasons' newbies and encouraging their success. 
What is the best thing (or some of the best things) about volunteering at Metroparks?
The best thing about helping is the opportunity to share my Metroparks education with grade school students and my running friends.