Park People: Ted and Pat Ligibel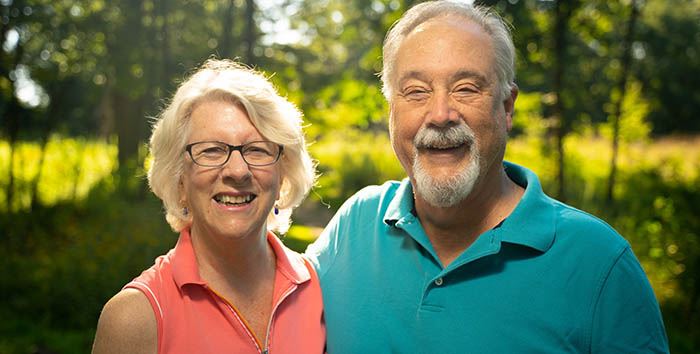 Ted and Pat Ligibel
Metropark Members and Advocates 
You could say that Metroparks and the Toledo Botanical Garden (TBG) brought Ted and Pat together and have been a part of their lives ever since they met in early 1977.  Not only that, they even were married in the Navarre (Pioneer) Cabin later that year. 
Ted's history with Metroparks trails back to a part-time job renting the paddle boats at Pearson Metropark in the early 1970s.  But his participation in the 1974 grassroots movement to save the Stranahan Estate as a Metropark, now Wildwood Preserve, was a life-defining experience for him.  According to Ted, "that campaign changed the way I looked at natural environments and revealed the power of political action. "  He also served as the first Vice-President of the Citizens for Metroparks organization right after it formed in 1975. 
Ted has enjoyed an extensive career in historic preservation, starting in 1974 and continuing to the present day.  He retired just this August from Eastern Michigan University's Graduate Historic Preservation program where he was director for nineteen years.  Involved in historical writing and the preservation of dozens of historic places in Ohio and Michigan over the years, the preservation of Wildwood and its spectacular buildings and setting, as well as Metropark places like Ludwig Mill and Fallen Timbers enrich the fabric of life in this region for him.  He also has appeared in several of WGTE-TV's "Toledo Stories" videos including the "Land As Good as Gold" episode created for the 40th anniversary of the creation of Wildwood Metropark. 
Pat is an avid conservationist, and a lover of both historic sites and natural places.  She has been active in a variety of pursuits including positions as a high school art teacher, ceramics instructor at the Toledo Museum of Art, travel consultant, real estate agent, small-business owner, and city planner. 
Since the 1980s Pat has volunteered for the annual Holidays in the Manor House and more recently as a Manor House Docent.  She currently serves on the House's  Interior Restoration Committee, helping ensure that the character of this historic place is carefully maintained.   Metroparks are very vital places for her.  She is especially interested in the new Howard Marsh Metropark which she feels, " is providing a major enhancement in helping to preserve the quality of Lake Erie and its diverse species of migrating birds." 
That Metroparks have been a major influence in the lives of Ted and Pat Ligibel would be an understatement.  They have experienced every park in the system and are thrilled to see Metroparks establish a natural and cultural presence in downtown Toledo. Asked which was their favorite park, the reply was "well…all of them, with special fondness for Toledo Botanical Garden and Wildwood."