Park People: The Wagener Family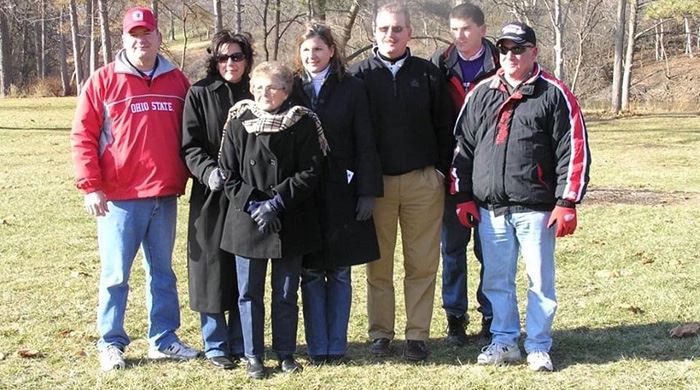 The Wagener Family
A Legacy Made in a Metropark
Side Cut Metropark is a very special place for the Wagener family. Many memories that span across generations were made in and near the park. The Wageners' story is about family, legacy and togetherness.
Early in the 1930s, Al Wagener was born and lived in Maumee, Ohio. In those days, Maumee was considered far away in the country, said his son Brent Wagener. Al was an outdoorsman and loved watching wildlife, fishing and hunting, all while enjoying the beauty of the area.
Al met Marjorie Landis at Maumee High School and they married after graduation in 1952. The couple lived apart for their first couple years of marriage because Al was serving his country in the Korean War. After the war, Al returned home and the Wageners made their stake in Perrysburg raising their six children: Brian, Shane, Shelly, Brent, Shannon and Brandon. The Wagener family was built with lots of togetherness and great memories. 
Side Cut would often host the large family where they picnicked and enjoyed being outdoors together. But when Al and Marjorie wanted to give their children a special get away, they would get the six kids up early, pack up food and head to Oak Openings. When asked about these times and favorite memories, Brent said "I have too many memories to mention. We would leave for Oak Openings early in the morning and stay all day. The park was large - we hiked, canoed, and rode horses. Since Brian was the fisherman in the family, for dinner, we ate what Brian caught." Brent remembers his mom Marjorie saying "family fun is made in the Metroparks and it doesn't take much money."
In 1999, the family was saddened by the sudden loss of their patriarch, Al. He died near Side Cut along the river, the place that he loved.
Although shaken, Marjorie and the Wagener children wanted to keep Al's memory and legacy alive, so they mobilized their large family of aunts, uncles and cousins (there are now many Wageners – family reunions consist of about 400!) and started the Alfred J. Wagener Golf Outing. Brent Wagener said "At first it started slow, then in years three and four, hundreds of golfers started to sign up. Golfers, sponsors, family and friends all wanted to take part because they knew it supported something good – the Metroparks." The outings were always filled with fun – golfing, music, and good food! Marjorie Wagener once said "she enjoyed this time because it became a special time to bring people together."
In 2019, the Wagener family celebrated the 20th annual Alfred J. Wagener Golf Outing. Their efforts and generosity enhanced Side Cut by providing access to more pure nature experiences – like the Wagener sledding hill and the accessible canoe/kayak dock launch at Silver Lake, making kayaking and canoeing accessible for everyone regardless of ability.
Al and Marjorie Wagener made memorable family experiences in a Metropark.  Because of their family, thousands will continue to be touched by their legacy well in to the future.