Start Now and Run All the Way to a 5K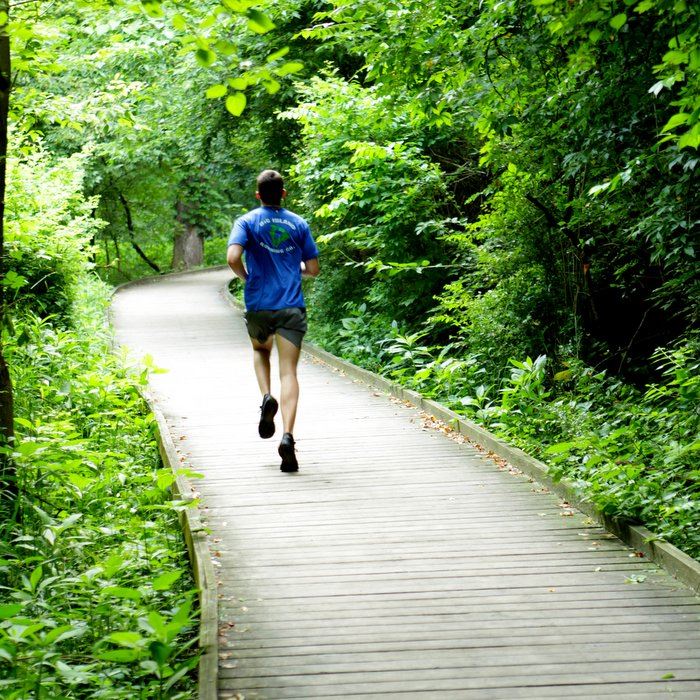 If you are not quite a runner yet, but would like to become one, Metroparks wants to help you get on the trail this year. A free 5K training series for beginner runners starts in April, aimed at gradually building endurance leading up to the Happy Trails 5K Race/Walk June 11 at Wildwood Preserve.
The training program intersperses running with walking, building up to a 5K run over 10 weeks. You can keep on pace even if you can't attend each session by checking out the training schedule below.
Sign up for each week individually here
 Training Schedule
| | | | |
| --- | --- | --- | --- |
|   | Monday | Thursday | Saturday |
| Week 1 | Five-minute warm-up walk. Then alternate 60 seconds of jogging and 90 seconds of walking for a total of 20 minutes. | Five-minute warm-up walk. Then alternate 60 seconds of jogging and 90 seconds of walking for a total of 20 minutes. | Five-minute warm-up walk. Then alternate 60 seconds of jogging and 90 seconds of walking for a total of 20 minutes. |
| Week 2 | Five-minute warm-up walk. Then alternate 60 seconds of jogging and 90 seconds of walking for a total of 20 minutes. | Five-minute warm-up walk. Then alternate 60 seconds of jogging and 90 seconds of walking for a total of 20 minutes. | Five-minute warm-up walk. Then alternate 60 seconds of jogging and 90 seconds of walking for a total of 20 minutes. |
| Week 3 | Five-minute warm-up walk. Then alternate 90 seconds of jogging and two minutes of walking for a total of 20 minutes. | Five-minute warm-up walk. Then alternate 90 seconds of jogging and two minutes of walking for a total of 20 minutes. | Five-minute warm-up walk. Then alternate 90 seconds of jogging and two minutes of walking for a total of 20 minutes. |
| Week 4 | Five-minute warm-up walk, then two repetitions of the following: Jog 90 seconds, walk 90 seconds, jog 3 minutes, walk three minutes. | Five-minute warm-up walk, then two repetitions of the following: Jog 90 seconds, walk 90 seconds, jog 3 minutes, walk three minutes. | Five-minute warm-up walk, then two repetitions of the following: Jog 90 seconds, walk 90 seconds, jog 3 minutes, walk three minutes. |
| Week 5 | Five-minute warm-up walk, then: Jog 3 minutes, walk 90 seconds, jog 5 minutes, walk or 2 & 1/2 minutes, jog 3 minutes, walk 90 seconds, jog 5 minutes. | Five-minute warm-up walk, then: Jog 3 minutes, walk 90 seconds, jog 5 minutes, walk or 2 & 1/2 minutes, jog 3 minutes, walk 90 seconds, jog 5 minutes. | Five-minute warm-up walk, then: Jog 3 minutes, walk 90 seconds, jog 5 minutes, walk or 2 & 1/2 minutes, jog 3 minutes, walk 90 seconds, jog 5 minutes. |
| Week 6 | Five-minute warm-up walk, then: Jog 5 minutes, walk 3 minutes, jog 5 minutes, walk 3 minutes, jog 5 minutes. | Five-minute warm-up walk, then: Jog 8 minutes, walk 5 minutes, jog 8 minutes. | Five-minute warm-up walk, then jog 20 minutes. |
| Week 7 | Five-minute warm-up walk, then: Jog 10 minutes, walk 3 minutes, jog 10 minutes. | Five-minute warm-up walk, then: Jog 10 minutes, walk 3 minutes, jog 10 minutes. | Five-minute warm-up walk, then jog 22 minutes. |
| Week 8 | Five-minute warm-up walk, then jog 25 minutes. | Five-minute warm-up walk, then jog 25 minutes. | Five-minute warm-up walk, then jog 25 minutes. |
| Week 9 | Five-minute warm-up walk, then jog 28 minutes. | Five-minute warm-up walk, then jog 28 minutes. | Five-minute warm-up walk, then jog 28 minutes. |
| Week 10 | Five-minute warm-up walk, then jog 30 minutes. | Five-minute warm-up walk, then jog 30 minutes. | Five-minute warm-up walk, then jog 30 minutes. |