Yark Subaru Helps Take Outdoor Experiences to New Heights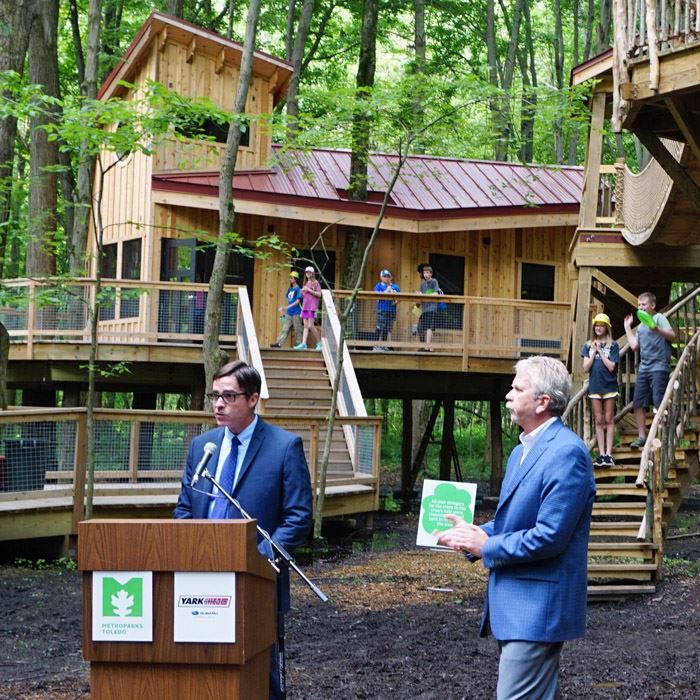 Metroparks Toledo today announced a partnership with Yark Subaru to fulfill the regional park system's pledge to engage more of the community in the outdoors.
The partnership includes a $100,000 gift over three years from Yark Subaru toward the Cannaley Treehouse Village, currently under construction at Oak Openings Preserve; sponsorship of Metroparks Connections Camps; and sponsorship of the annual Outdoor Expo.
Connections Camp is Metroparks program to ensure that all children have a memorable summer camp experience. Working with local community organizations, the program currently serves 700 summer campers from throughout the community at no cost to their families. Thanks to the Yark Subaru gift, each Connections Camp participant will now add a visit to the Treehouse Village to the variety of outdoor experiences they enjoy during the weeklong day camps.
The Outdoor Expo, held annually at Side Cut Metropark, is a free community event where people of all ages can "try on" a variety of outdoor activities, from kayaking to tree climbing. More than 6,000 people attended this year's Expo in May. Yark's sponsorship of that event began last year and will continue for the next two years.
Plans for the Treehouse Village were announced in September and include a large common treehouse for day use. For overnight stays, there will be a six-person, a four-person and two two-person treehouses plus three tent platforms.
At the same time, the park district announced the relaunch of the Metroparks Toledo Foundation and a fundraising campaign to pay for the $1.5 million project through philanthropic giving. Thanks to the Yark Subaru gift, less than $90,000 remains to be raised to reach that goal.
The Treehouse Village is expected to open to the public in spring 2020.
__
Photo: Scott J. Savage, president of the Board of Park Commissioners, and John Yark of Yark Subaru, speak during a news conference June 18.
Related Stories