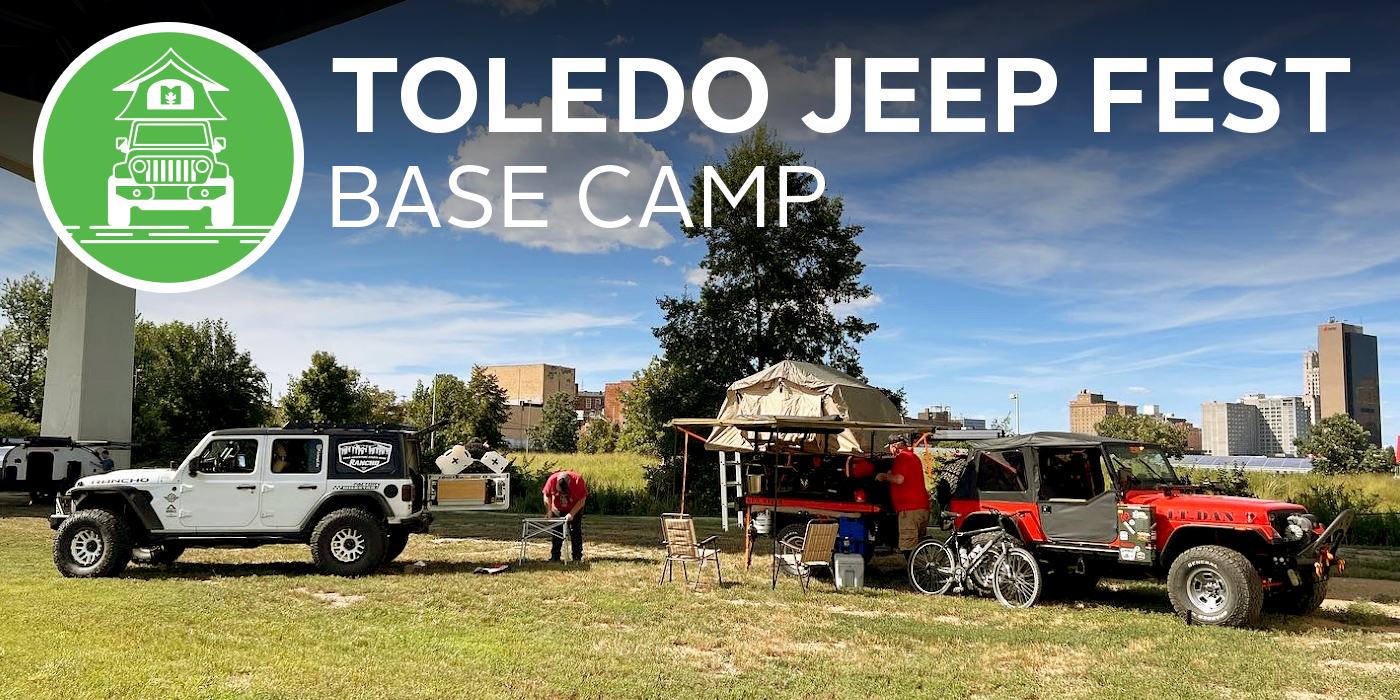 Toledo Jeep Fest Base Camp
Metroparks is pleased to once again partner with Toledo Jeep Fest to open a pop-up Jeep Overlanding site at Middlegrounds Metropark called Toledo Jeep Fest Base Camp.
Middlegrounds will once again host Jeep Overlanders during Toledo Jeep Fest Weekend offering an overnight opportunity at the park, conveniently located less than a mile from the Toledo Jeep Fest event footprint and more than 50 downtown restaurants and attractions. 
Toledo Jeep Fest Base Camp is a nod toward the future when Metroparks makes camping a permanent part of downtown with the completion of Glass City Metropark campground.
Jeep Overlanding Sites - Less than 20 sites available
$80 for two nights ($40 per night) [Friday & Saturday]  
The goal of overlanding is to become reliant on your vehicle for transportation and shelter in order to enjoy the nature around you. Base Camp will offer a unique urban overlanding experience with limited overlanding sites located beneath the Anthony Wayne Bridge at Middlegrounds Metropark.
Each overlanding site is 15x30 and can accommodate groups of up to 8 guests. Each site offers the following: space for one Jeep overlanding vehicle and room for one additional tent (up to 10x10). Guest may bring a portable grill 18 to 20 inches in diameter.
**No RV's will be permitted at Toledo Jeep Fest Base Camp. There are no electrical or waste connection available for Jeep overlanding sites.
---
Check-In / Check-Out
Toledo Jeep Fest Base Camp will open to registered campers at 3 p.m. on Friday, August 4; guests will be asked to exit base camp by 12 p.m. on Sunday, August 6. 
Base Camp Amenities – Jeep Fest Base Camp is a pop-up primitive urban camping experience – full restrooms are available at the Rotary Roundhouse Shelter and portable restrooms and washing stations will be stationed at Base Camp.  There are no shower facilities on site. A full list of park amenities is below.  More information about Middlegrounds Metropark can be found HERE.
Access to the Rotary Roundhouse shelter with picnic tables and restroom facilities
Enjoy Middlegrounds 1.5 mile walk/bike path along the Maumee River
Bring your kayaks and utilize the Kayak Cove launch area
Bring your dog and utilize Middlegrounds off-leash dog area
Toledo Jeep Fest Special Events – Base Camp is located less than a mile from the Toledo Jeep Fest event footprint and all the great activities throughout the weekend. Click Here to see a full list of events.
Event Details
Middlegrounds Metropark will remain open to the public during normal park hours, with Metroparks Rangers patrolling the area 24 hours per day. Gates to Middlegrounds Metropark will close by 11 p.m. each night. Guests must contact the on duty Ranger to gain access if you're arriving back to the site after 11 p.m.
Register online or by calling 419-407-9700, space is limited.
*Sites will be assigned in the order registrations are received.