Board President Makes it 'Look Far Easier than it is'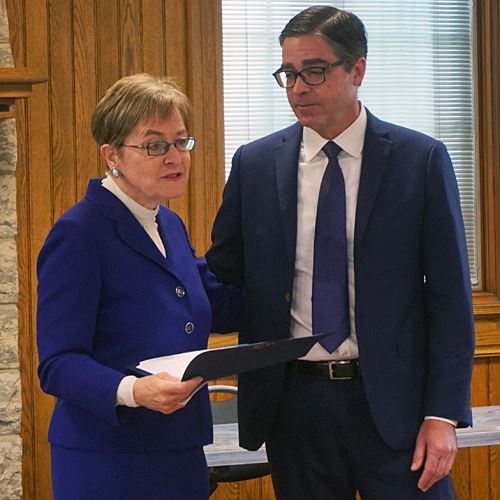 Scott Savage Honored for 20 Years of Service
Scott Savage, president of the Metroparks Board of Park Commissioners, admittedly deflects attention away from himself, preferring instead to highlight the park system, its staff or the five-member board as a group. But his fellow commissioners had another plan in store for him at the start of their regular May meeting.
Vice-president Fritz Byers began a presentation to recognize Mr. Savage's 20 years of service to Metroparks, which was echoed by a special guest, U.S. Rep. Marcy Kaptur.
"You make it look far easier than it is," Mr. Byers said to Mr. Savage, whose work on behalf of the park system began even before joining the board in 2007.
Five years earlier, Mr. Savage co-chaired with then Toledo fire chief (and future mayor) Mike Bell a levy campaign to acquire additional parkland. The passage of that levy – by a 2:1 margin – began two decades of growth that included 10 new parks and more than 5,000 additional acres of protected natural area.
"One of the many things for which we are grateful is your leadership style, which is selfless but at the same time passionate," Mr. Byers said to Mr. Savage. "Not an easy balance to strike."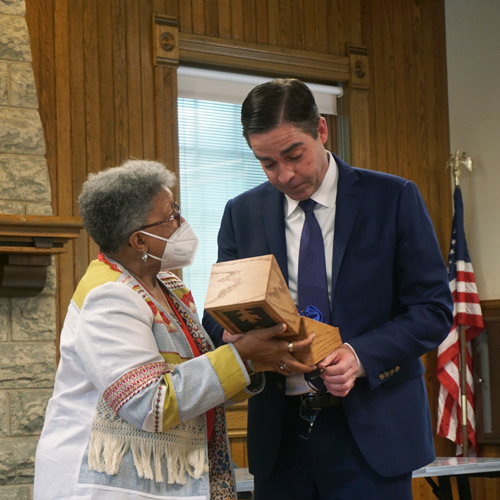 '150 Percent'
Lera Doneghy, the board's other vice-president, presented Mr. Savage with a gift in addition to more praise and gratitude.
"He is a commissioner who has given 150 percent, truly," Mrs. Doneghy said. "I call him our money man. He is always looking at the dollars to make sure we are doing our best for the citizens of Lucas County."
After presenting a proclamation in recognition of "outstanding service to our community," which will be entered into the Congressional record, Rep. Kaptur thanked Mr. Savage "for making us better."
"Thank you for getting us recognized nationally and probably internationally," Ms. Kaptur said. "And for leading us to be a truly beautiful and humane community – America needs that."
Transforming the Region
Mr. Savage called the honor "humbling," but added, "We are in the early innings of transforming the region, and I want to thank my fellow commissioners. It's been a tremendous ride so far."
When the "land levy" was on the ballot in 2002, there was only one Metropark in the City of Toledo, Swan Creek Preserve. Today, there are four, plus additional miles of trail. In 2020, with the opening of Manhattan Marsh Preserve in North Toledo, the agency made good on a pledge to place a Metropark within five miles of every resident of Lucas County.
With that vision realized, Mr. Savage said, the board now has its sights on a larger task: To "elevate or region. To get the rest of the world to change the way they think about our region" and to get people who live here to "think a little differently about themselves and where they live, and how proud they should be of what we have here," he said.
"We are elevating our region," Mr. Savage continued. "People who cut the grass in our parks, they aren't cutting grass, they are elevating our region. The grounds techs here, the rangers, everyone, all of you who work so hard every day picking weeds, making sure this place looks like a Metropark… When you go to a Metropark, you know what you are going to experience, and that has never wavered.
"Everyone who works for a Metropark, you are elevating our region. And we are going to continue to do that. We are going to do more, and we're going to do it together as a team like we always have."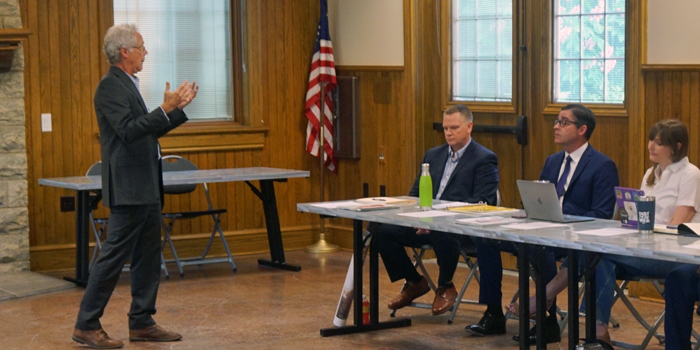 Photos, top to bottom: Congresswoman Kaptur with Scott Savage; Lera Doneghy and Mr. Savage; Fritz Byers speaks to Mr. Savage, who is flanked by board members Kevin Dalton and Molly Luetke.
20 Years of Accomplishments
Scott J. Savage joined the Board of Park Commissioners in 2007, and was recently appointed to a sixth term by Lucas County Probate Court Judge Jack Puffenberger.
In 2002, Mr. Savage co-chaired a levy campaign to purchase additional parkland, beginning a period of unprecedented growth, from about 7,500 to more than 12,000 acres, and from nine to 19 parks.
Recent highlights under Scott's leadership include:
Acquiring a corridor that will one day connect five Metroparks and three State Nature Preserves while restoring globally rare habitat in the Oak Openings Region
Opening Fallen Timbers Battlefield Metropark, an affiliated unit of the National Park Service and one of three separate locations that make up a National Historic Site
Opening Howard Marsh, a 1,000-acre wetland restoration near the Lake Erie shore that until that time was the most ambitious project in Metroparks 90-year history
Establishing the nation's first treehouse village in a public park, paid for with private funds
Fulfilling the park district's pledge to place a Metropark within five miles of every resident of Lucas County, including three in Toledo
Beginning the development of Glass City Metropark and Glass City Riverwalk, which will open in stages over the next several years, connecting six neighborhoods on both sides of the Maumee River in downtown and East Toledo
Winning dozens of awards, including the National Gold Medal Award in 2020