Contest Winner Takes New Bike for a Spin at Swan Creek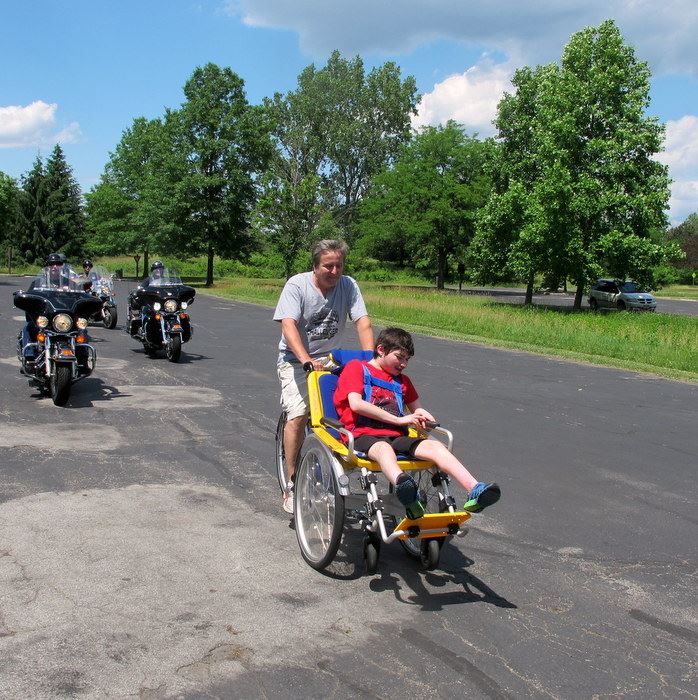 When Kyle Kwiatkowski went for a bike ride around the parking lot at Swan Creek Preserve Monday afternoon, he was escorted by firefighters on motorcycles, all the while being cheered on by family and friends.
It was no ordinary bike ride.
Kyle, 21, who has a rare genetic disorder called Pitt Hopkins Syndrome, was taking his first spin in a Metropark on a new bike that he won in a contest thanks to the support of the community.
The Duet custom wheelchair bicycle tandem is a $5,000 adapted bike with a wheelchair on the front. Kyle's father, Carl, demonstrated how the wheelchair disconnects from the bike to be used separately. His mother, Billie, said Kyle will be able to use the wheelchair when he plays baseball.
The Maumee family won the bike in The Great Bike Giveaway, a social media contest by Friendship Circle of Michigan, a non-profit organization that provides programs and support to the families of individuals with special needs.
After NBC24 reported on Kyle's quest to win the bike, Kyle's aunt Teresa Nye  went to work recruiting the help of military friends and local organizations. Metroparks and the Axemen motorcycle club of Toledo were among those who helped spread the story through Facebook.
After Kyle's victory lap around the Swan Creek parking lot, Metroparks presented him with a water bottle for his new bike, and the Axemen made him an honorary member of their club of active and retired firefighters.
"He can ride a bike, he can enjoy life just like anybody else," Billie Kwiatkowski said in the NBC24 story in March. "He loves to be outside."
Related:
Object reference not set to an instance of an object.