Dana Donates $1 Million to Support Glass City Metropark and Riverwalk, Establishes Sustainability Partnership with Metroparks Toledo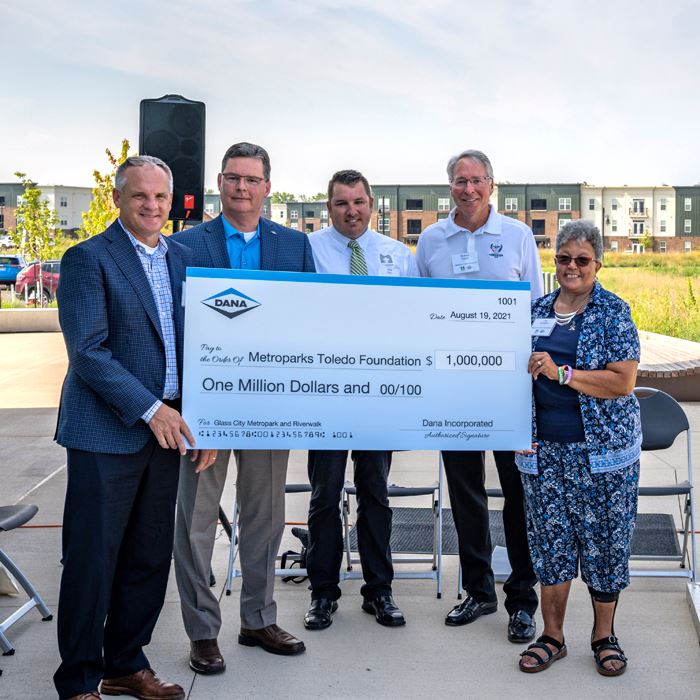 Dana Incorporated announced today that it has donated $1 million to support the construction and maintenance of Glass City Metropark and Riverwalk, as well as a new sustainability-focused lecture series, and an ongoing Maumee River cleanup program.
Glass City Metropark Phase 2, currently under construction in East Toledo, is a significant portion of the $200 million Glass City Riverwalk, a 300-acre greenway on the east and downtown sides of the Maumee River from the Anthony Wayne Bridge to the Veterans Glass City Skyway. When complete the space will connect six neighborhoods along both sides of the Maumee River.
A property tax levy approved by Lucas County voters in November will partially fund the development, with the balance coming from grants and ongoing fundraising efforts.
Glass City Riverwalk is expected to become one of the region's most popular destinations, with year-round outdoor recreation opportunities, including adventure play areas and an ice skating ribbon. The series of projects will also enhance environmental quality through the beneficial reuse of brownfields and upgrades to the shoreline, which will improve the water quality of the Maumee River and Lake Erie.
"Glass City Metropark and Riverwalk is an important project that leverages one of the greatest natural assets of the Toledo community – the Maumee River – to offer unique greenspaces for residents and visitors," said Doug Liedberg, senior vice president and chief sustainability officer, Dana Incorporated. "This investment in Metroparks is an extension of our company's commitment to sustainability and social responsibility, and will help enrich the lives of people in the Toledo community for years to come." 
Lecture Series & Stewardship
The "Sustaining Our World Lecture Series" will include four speakers per year covering sustainability and social responsibility topics. In addition, Dana will enlist the help of volunteers to conduct community cleanup days along the shores of the Maumee River.
"Dana's gift says a lot about the company, this project and our community," said Dave Zenk, executive director of Metroparks Toledo. "The many ways Metroparks serve our region are built upon a foundation of conservation. Nowhere is that more obvious than at the six Metroparks along the Maumee River that help protect our magnificent river and Lake Erie. The unprecedented public and corporate support for Riverwalk demonstrates our community's commitment to a healthy, sustainable future."
Object reference not set to an instance of an object.
About Dana Incorporated
Dana is a leader in the design and manufacture of highly efficient propulsion and energy-management solutions for all mobility markets across the globe. The company's conventional and clean-energy solutions support nearly every vehicle manufacturer with drive and motion systems; electrodynamic technologies, including software and controls; and thermal, sealing, and digital solutions.
Based in Maumee, Ohio, USA, the company reported sales of $7.1 billion in 2020 with 38,000 associates in 33 countries across six continents. Founded in 1904, Dana was named one of "America's Most Responsible Companies 2021" by Newsweek for its emphasis on sustainability and social responsibility. The company is driven by a high-performance culture that focuses on its people, which has earned it global recognition as a top employer, including "World's Best Employer" from Forbes magazine. Learn more at dana.com.
Object reference not set to an instance of an object.