Librarian Picks Focus on Fall (1)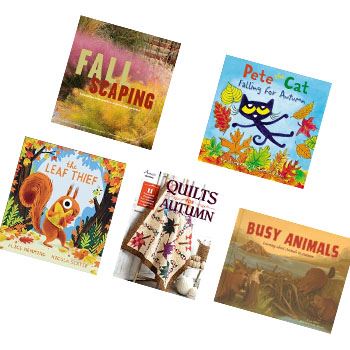 Recommended reading on nature-related topics from librarians at the Toledo Lucas County Public Library.
Fallscaping
By Nancy Ondra
Embrace the jewel-toned fruits, flaming foliage, and woody plants of the fall garden. Landscape designers Nancy J. Ondra and Stephanie Cohen offer practical design ideas, plant advice, and 10 complete garden plans in this autumnal gardening guide. Ondra and Cohen's expertise is complemented by stunning color photographs that illustrate the beauty and variety of this often overlooked gardening season. You'll be inspired to use vines, tree shrubs, and flowers to contribute color, texture, and beauty to your garden well past summer's peak. – Provided by publisher. 
Find it at your library: [book] 

Pete the Cat : Falling for Autumn
By James Dean
Pete the Cat isn't sure about the changing of the seasons from summer to autumn. But when he discovers corn mazes, hay rides, and apple picking, Pete realizes there's so much to enjoy and be thankful for about autumn. 
Find it at your library: [book]   [overdrive ebook]   [overdrive eaudio]

Busy Animals : learning about animals in autumn
By Lisa Bullard
Autumn is a busy time for animals. Follow along on a walk through the nature reserve. Read about birds and butterflies that migrate. Find out which animals hibernate. But don't get too close to those bees! 
Find it at your library: [book]   [hoopla ebook]

The Leaf Thief
By Alice Hemming
Perfect for fans of Fletcher and the Falling Leaves, The Leaf Thief is a funny picture book that teaches kids about autumn, adapting to change, and the seasons.
Squirrel loves counting the leaves on his tree-red leaves, gold leaves, orange, and more. But hold on! One of his leaves is missing! On a quest to find the missing leaf, Squirrel teams up with his good friend Bird to discover who the leaf thief could be among their forest friends. 
Find it at your library: [book]   [hoopla ebook]

Quilts for Autumn
By Annie's
As colder weather sets in and the garden is harvested, countless quilters are inspired to create. Images of fresh pumpkins and falling leaves beg to be turned into warm and cozy quilts for every room of the home. Beautiful table runners adorn our family gatherings as we give thanks for what we have. This is an ideal time to decorate with rich colors and plan projects for our loved ones. In Quilts for Autumn you will find 11 creative projects that embody this special season. Whether you are a new or experienced quilter, you will be sure to love stitching the traditional and contemporary designs within these pages. For a stunning table runner to show off at Thanksgiving, check out Come Little Leaves. Dig out your favorite fall palette scraps to make a lap or throw quilt, or even a welcoming wall hanging. If modern is more your style, Farmhouse Comfort is a stylish, yet whimsical, quilt that would make a great addition to almost any decor. From kitchen projects to wall hangings to full-size quilts, this collection will spark your creativity for many seasons to come. 
Find it at your library: [hoopla ebook]