Spicing up the Woodlands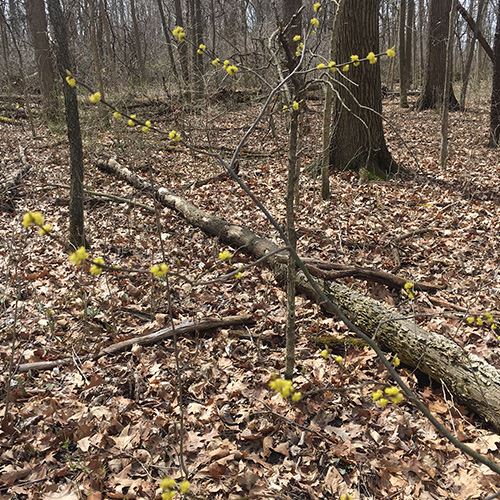 By:  Karen Menard
Adding a "spicy" glowing haze to the woodland vista, northern spicebush (Lindera benzoin), is one of the first shrubs to bloom in late winter and early spring.
Currently, spicebush can be seen flowering in the wet woodlands of Fallen Timbers Battlefield, Secor, Pearson and Oak Openings. Spicy in both its physical appearance and aroma, this medium to tall shrub produces masses of small, greenish-yellow flowers, often casting a luminous, golden fog across the forest understory.
Appropriately named for the fact that all parts contain aromatic oils, spicebush was historically used by both Native Americans and early settlers for medicinal teas, an insect repellent, and a type of spice.
From a wildlife perspective, many native moths, butterflies, bees and small flies are attracted to the flowers, which are an important source of nectar during the early spring season. Forest thickets also provide good cover for birds and small mammals.
Not surprisingly, the bright, shiny red, drupes (berries), when ripe in the fall, don't last long.  Many species of birds and mammals quickly consume the high energy fruits, providing healthy sustenance for their long migratory journeys south.
Did you know?  Spicebush is the host plant for the spicebush swallowtail butterfly (Papilio troilus); and this species is one of the most commonly observed butterflies in the Metroparks.
---
Photos: Spicebush haze (Carroll Cannon, Pearson); Spicebush blooms (top- Karen Menard, Fallen Timbers Battlefield); Spicebush swallowtail butterfly (Art Weber)