Volunteers Monitor Vernal Pools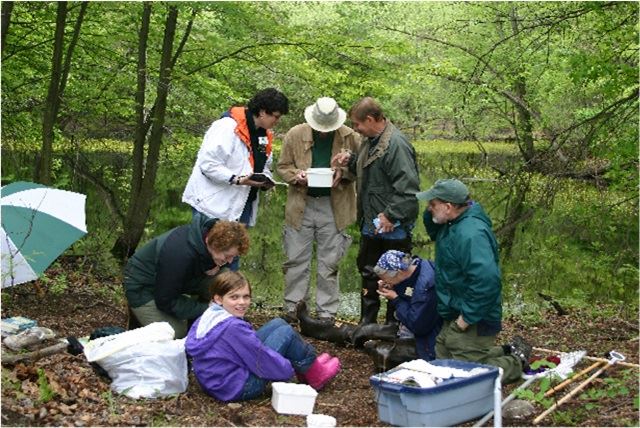 Venal pools are loaded with life.
The seasonal bodies of water, typically found in wooded areas, from in the spring from melting snow then dry up in hotter months and may return in autumn. Because they dry up, fish can't live in these pools, allowing other species to thrive. These include semi-aquatic animals like frogs, salamanders and turtles.
Monitoring vernal pools is a useful conservation tool because the health of a vernal pool is an indicator of the overall health of the surrounding environment.
The Metroparks Vernal Pool Monitoring Program raises public awareness about the existence of these habitats while allowing people to participate in interesting and important field-research.
The annual survey started in 2004 and has continued entirely as a volunteer initiative. It lasts throughout the summer, starting in early March, with the volunteers surveying the pools every other week. There is one, special night monitoring event in mid-June. The location varies each year.
Either a summary or detailed reports of the information collected each season is sent to Metroparks and Frog Watch USA, and a report is presented at the annual Oak Openings Research Forum.
In 2009 and 2012, Metroparks Vernal Pool Monitoring program hosted the Ohio Environmental Council's spring vernal pool workshop. In past years, posters have been presented at other relevant conferences such as the Midwest Oak Savanna and Woodland Conference, the Ohio Declining Amphibians Conference and the Ephemeral Gems: Exploring Seasonal Ponds Conference at the Cleveland Museum of Natural History.
Why Monitor Vernal Pools?
Vernal pools are temporary wetlands found in many local woods. They are very high in biodiversity, and are critical breeding habitat for several species, including salamanders and frogs.
Classified as wetlands but having little protection, vernal pools can be centuries old. Each one holds a unique mix of aquatic life.
Vernal pools enable other aquatic wildlife to breed successfully, before the pools dry and disappear, because of the fact that they lack fish.