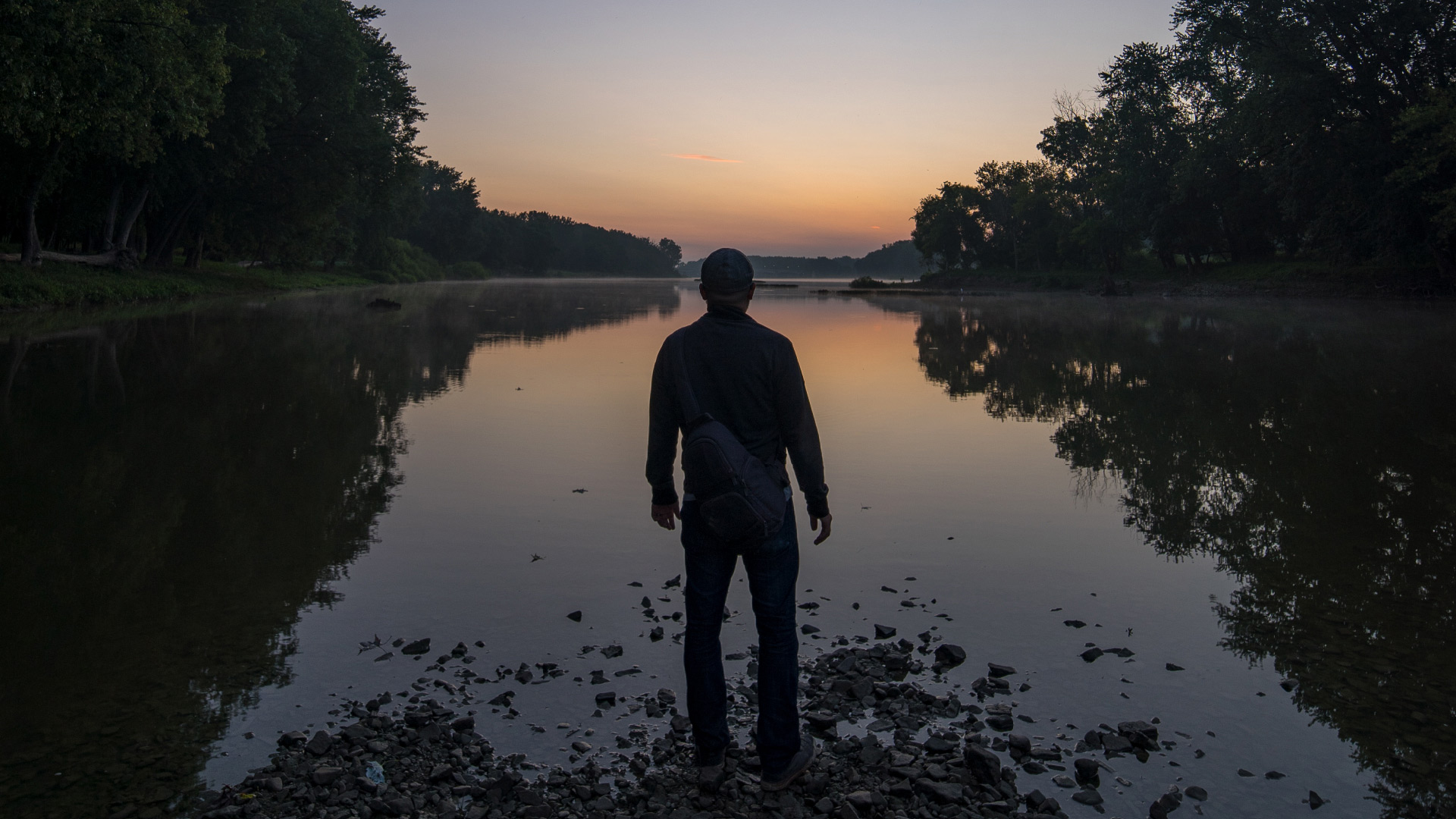 Speaker Series
Metroparks Toledo and Dana Incorporated are pleased to present this annual speaker series about the significance of northwest Ohio's natural resources, the importance of protecting and restoring ecosystems and ways the community can make a positive difference for the environment.
The Sustaining Our World Speaker Series presented by Dana Incorporated includes four speakers per year covering sustainability and social responsibility topics. Two lectures this spring and two this fall in the Glass City Metropark Pavilion will be open to the public and available online via livestream.
For information or questions regarding the Sustaining Our World Speaker Series call 419-407-9700.

Livestream of Sustaining Our World: A Call to Climate Action will begin at 5:55 p.m. on Tuesday, November 7.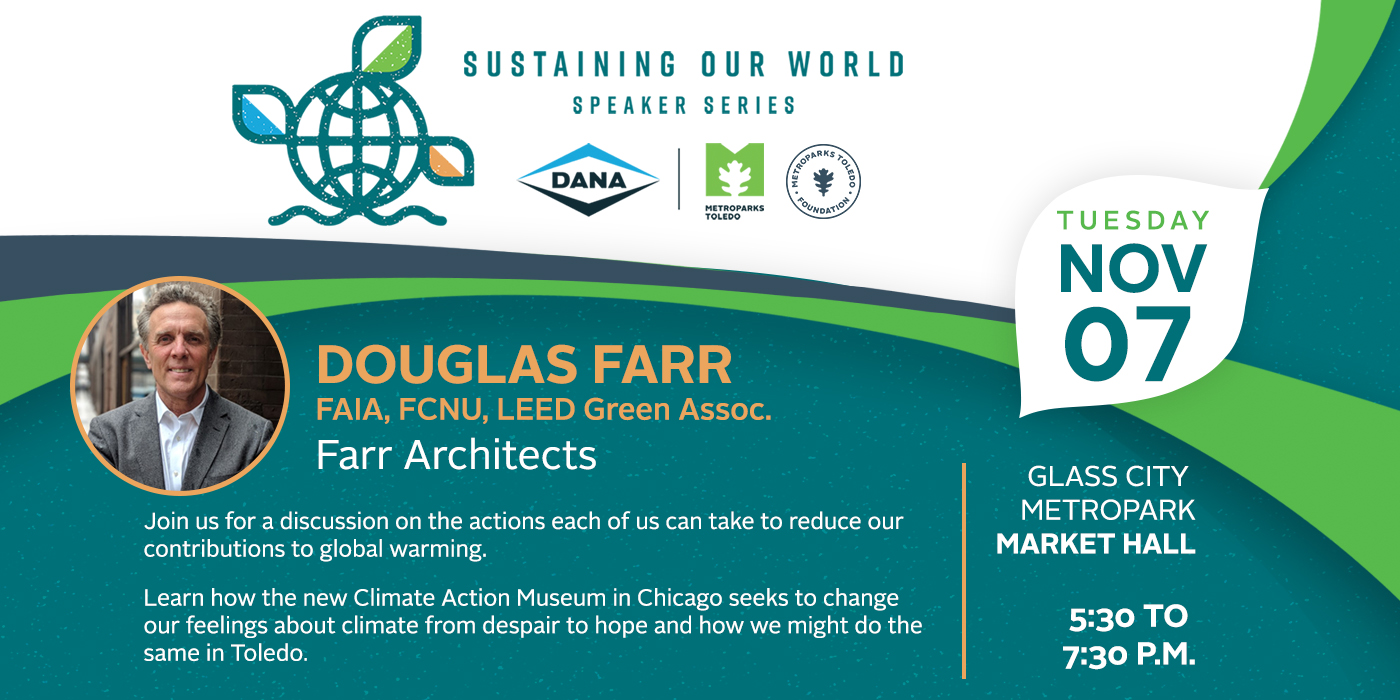 A Call to Climate Action
Sustaining Our World Speaker Series Presented by Dana Incorporated
Glass City Metropark, Market Hall (1505 Front Street)
Tuesday, November 7, 5:30 to 7:30 p.m.
(Presentation to begin at 6 p.m.)

Douglas Farr, FAIA, FCNU, LEED Green Assoc.
Join us for a discussion on the actions each of us can take to reduce our contributions to global warming. Everything from where we live and work, how we get around, the buildings we occupy, the clothes we wear, the appliances we use and the food we eat. Learn how the new Climate Action Museum in Chicago seeks to change our feelings about climate from despair to hope and how we might do the same in Toledo. Reservations Required, Free.
Download the event flyer [PDF]
---
Volunteers Needed
In addition to the lecture series, Dana is also initiating cleanup days along the shores of the Maumee River, and inviting individuals and groups to participate.
A series of volunteer days sponsored by Dana will including litter pickup and other projects to clean and beautify the riverfront at Glass City and nearby locations. Groups and individuals interested in volunteering can get involved by contacting Shannon Hughes, director of education and programming for Metroparks, at 419-407-9841 or Meredith.Busic@metroparkstoledo.com.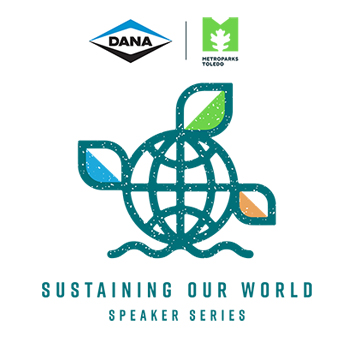 ---
2023 Sustaining Our World Programming

Bird Conservation and Migration: Global Perspectives and Local Impact
Tonight's Event is SOLD OUT, but you can watch it here Livestreamed.
Glass City Metroparks, Glass City Pavilion
1001 Front Street, Toledo, Ohio 43605
Tuesday, April 11, 6:30 to 8:30 p.m. (Doors open at 6 p.m.)
Northwest Ohio is known as the Warbler Capital of the World with thousands of avian and human visitors flocking to the region for the Biggest Week in American Birding. Birds are beautiful and fun to study, but there is more to the story. Migratory bird species have long been seen as indicators of environmental change and great indicators of climate change—the canary in the coal mine—for climate change.
Panelists will discuss what birds tell us about our changing world, why bird species are important to keep ecosystems worldwide healthy and why restoring and maintaining natural habitat in northwest Ohio so important. Also learn what you can do for our feathered friends.
Panelists
• Dr. Jay Wright, Director of Conservation Science at Metroparks Toledo
• Kimberly Kaufman, Executive Director, Black Swamp Bird Observatory
• Jeff Sailer, President/CEO, Toledo Zoo & Aquarium
Click Here to download the flyer [PDF].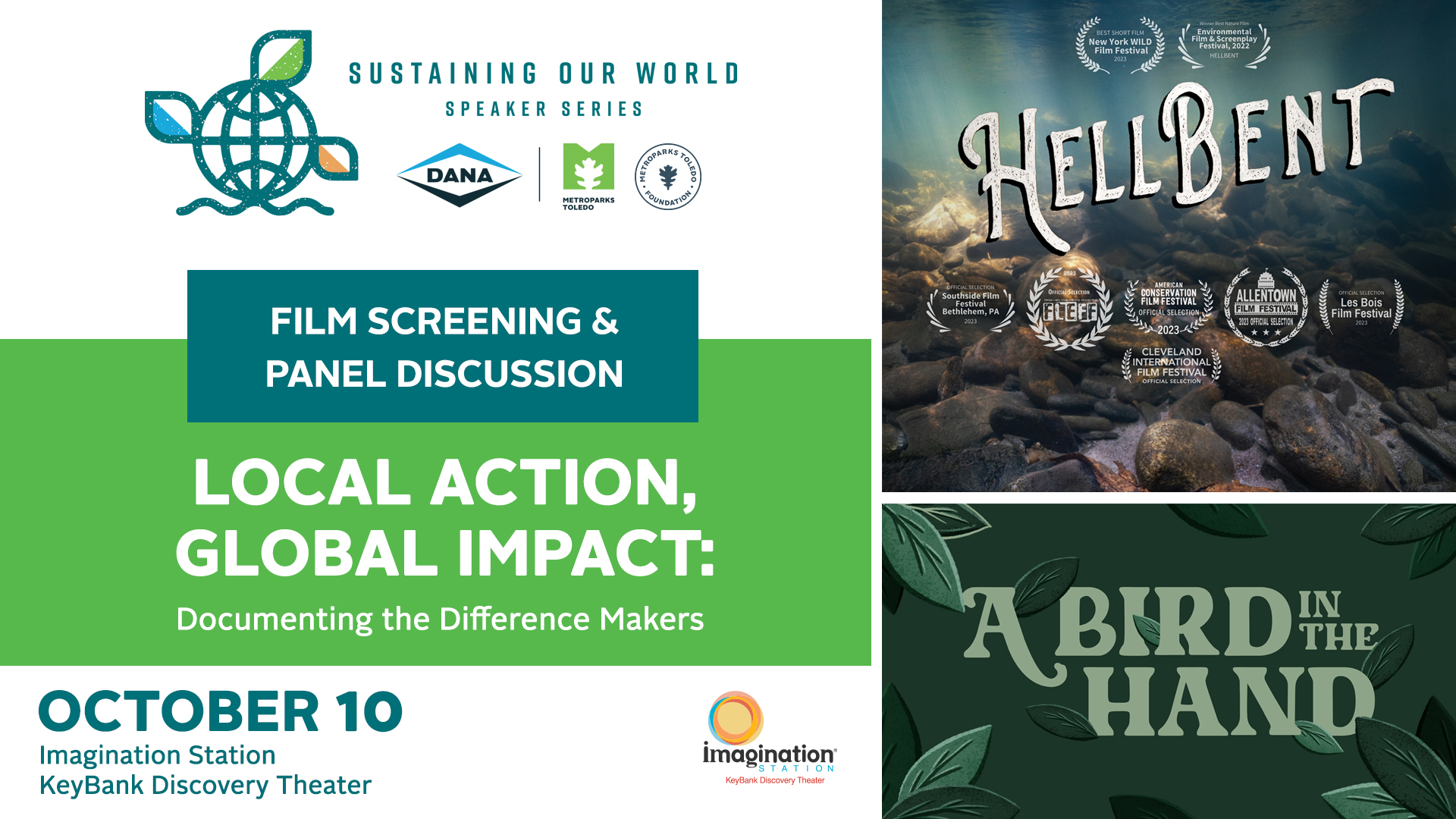 Local Action, Global Impact: Documenting the Difference Makers
Tuesday, October 10, 6 to 8 p.m., Doors Open at 5:30 p.m.
Imagination Station KayBank Discovery Theater
Our natural world is changing at an increasingly rapid rate with major implications on the very resources we and other creatures rely on for survival. 
But what is to be done? Are these problems too big for an individual to make a difference? 
Join us as we explore two short documentary films that prove otherwise and showcase in local and global environmental issues. Following the screenings, a panel discussion with the filmmakers and local experts will explore the small and big ways that individual citizens and groups can contribute to positive change in their own communities.
The event is FREE and open to the public. 
Panelist Bios [PDF]
About the Films Hellbent and A Bird in the Hand. [Details]
---
2022 Sustaining Our World Programing
May 5, 2022
Sustaining Our World: Restoration Is Worth The Effort
---
October 18, 2022
Sustaining Our World: The Erie Situation Screening and Panel Discussion
June 22, 2022
Sustaining Our World: Engaging Diverse Audiences in the Environment
---
November 14, 2022
Sustaining Our World: Corporate Responsibility and Sustainability