A Gathering of Gulls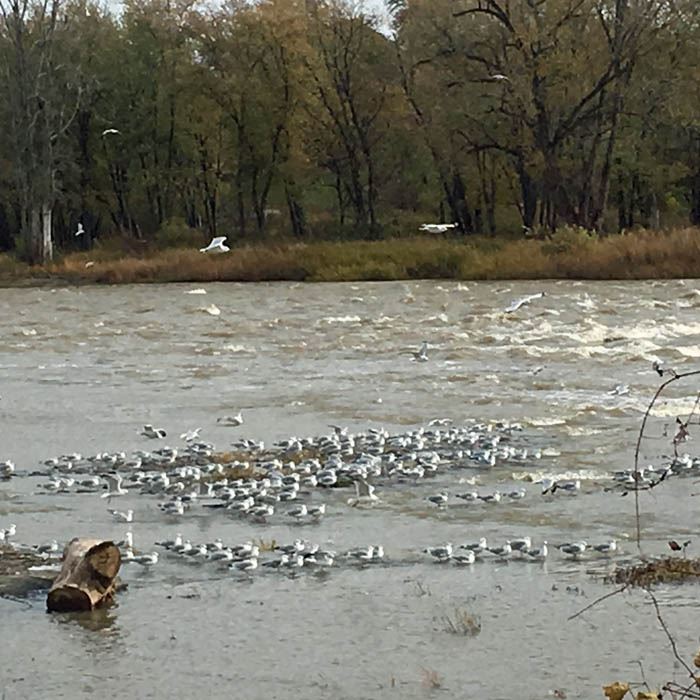 A flock of Ring-billed gulls could be seen gathering at the Jerome Rd. rapids on the Maumee River this week.  After the latest rain event, the rapids were swiftly rolling with morsels of food that proved interesting to these gulls that often skim shallow water for fish.
Also seen around urban parking lots and landfills, this species has appeared to be very opportunistic in its feeding habits, foraging for french fries and other fast food scraps on the pavement and catching insects on the wing.
Surprisingly, 100 years ago this gull was very rare due to the feather trade, as well as loss of breeding habitat. Today, they are considered common, permanent residents along Lake Erie and are one of two gull species that nest in Ohio.
Late fall into winter is a good time to watch gull congregations along the Maumee and Lake Erie as flight maneuvers like diving, hovering or gliding are fun to observe. Some species can even coast along at nearly 40 mph!
on't forget to look for other migrants like Bonaparte's gulls that often feed on gizzard shad, as well as the rare and unexpected visitors from the far north, Glaucous and Iceland gulls.