April Honors Native Spring Wildflowers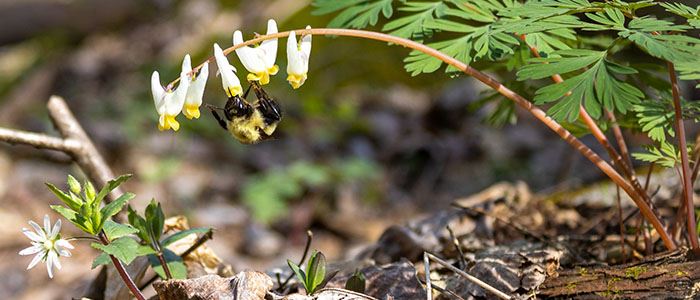 By Karen Menard
The woodlands are coming alive with the buzz of pollinators and carpets of spectacular native spring wildflower blooms.
Having developed ecological strategies for dealing with frost, lack of moisture, light necessity, pollinator availability, or even a late snow storm, these tough, early blooming species are specially adapted for seasonal life on the forest floor in Ohio woodlands.
Starting in late March, some of the first to bloom include hepaticas and skunk cabbage. Mid-April brings Dutchman's breeches, trout lily, bloodroot, wild blue phlox, cut-leaved toothwort and spring beauty. Explore the trail at Fallen Timbers Battlefield, Pearson's woodland trails and the Yellow Trail at Oak Openings Preserve for some of the largest displays.
To increase public awareness about our amazing native plant species and how they provide benefits to pollinators, as well as the economy and the health of our environment, April has been designated as Ohio Native Plant Month. In 2019, Governor Mike DeWine signed House Bill 59 into law, making Ohio one of the first states in the country to have an entire month dedicated to native plants.
It is exciting to see that we will all be continuing to celebrate and support the conservation of native plants on a yearly basis.
During April, stay tuned to the Metroparks website for family activities and upcoming wildflower hikes allowing an up close view of these native species in full bloom.
Learn more about Native Plant Month and spring wildflower identification>
Did You Know?
With its thick, fleshy leaves, bloodroot (pictured) is able to trap warm air on cold, spring mornings, shielding the plant from frost. March blooming hepaticas covered with dense hairs (resembling a fur coat) act as insulators, preventing ice condensation from occurring on the plant.
Photo, Top: Dutchman's breeches
Object reference not set to an instance of an object.