Success Stories on World Wetlands Day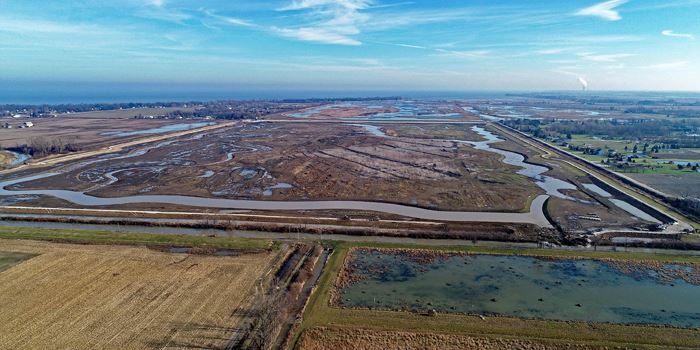 Toledo was once known as Frogtown because of its expansive wetlands -- those swampy transitional areas between land and water that act as natural filters and provide vital habitat for wildlife. Today, wetlands are imperiled.
Swamps, wet prairies, coastal marshes and other forms of wetlands once totaled 5 million acres across Ohio, but 200 years later, that total has declined by 90 percent to about 483,000 acres. Preserving the wetlands that are left, and restoring those that we can, is one of the highest priorities for conservation agencies like Metroparks Toledo.
On World Wetlands Day (February 2), we want to share some success stories.
Howard Marsh, Metroparks largest wetland restoration, opened in 2018 near the Lake Erie shore in Jerusalem Township. It now totals about 1,000 acres, including a 243-acre addition nearing completion. In less than four years, the park has become a destination for birds and bird watchers, especially during spring migration.
Pearson North, a 300-acre wetland mitigation bank on Seaman and Wynn Roads in Oregon, opened in 2009 on the 75th anniversary of Pearson, doubling the size of the park. It, too, is a magnet for waterfowl and other birds that rest here during their seasonal journeys.
Manhattan Marsh Preserve, opened in 2020, provided a scenic park in North Toledo while preserving and enhancing a wetland known for its diversity of wildlife. It is now an accessible oasis in the city frequented by great blue herons, a variety of ducks and occasionally, osprey and bald eagles.
Miles inland, in the Oak Openings Corridor, wetlands filter water that flows into tributary streams, such as Swan Creek.
Working with the Toledo Zoo, Metroparks restored land along the Moseley Trail between Secor and Wiregrass Lake, creating much-needed habitat for turtles and other wildlife
A 48-acre wetland restoration near the corner of Airport Highway and SR 64 was one of the first projects funded by the state's H2Ohio program
And wetlands will also be an important part of the Secor Metropark expansion on Central Avenue
__
Photo: Howard Marsh Phase 2, December 2021, by Josh Brenwell