Water's Ways: Flood and Ice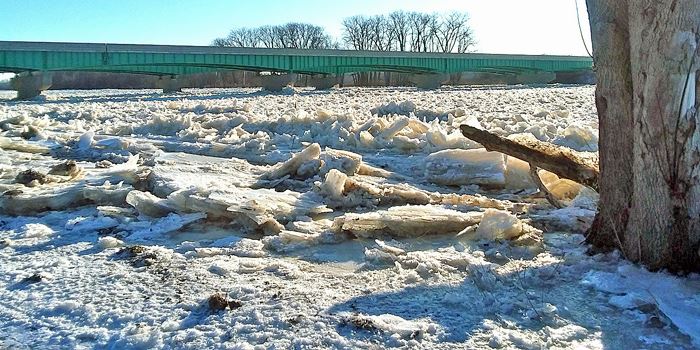 The land on either side of a river is called a floodplain. Side Cut's floodplain stores excess Maumee River water to decrease downstream flooding, helps filter and clean
this precious source of drinking water, and reduces river sedimentation. Numerous wildlife tree homes are found in floodplains due to ice scraping against the trees and starting the
formation of tree cavities.
Retaining floodwaters is an important, though lesser known, benefit of natural areas such as those preserved in the Metroparks.
Floods Help and Hurt
Nature relies on floods. Floods and adjacent lands called floodplains allow rivers to purge excess sand, silt, and pollution. Plants and shrubs along the edge trap floodwater debris. The earth itself filters floodwater and returns it to the mainstream cleaner that when it left. At winter's end, rising waters create wildlife tree homes as ice crashes against trees and leaves cuts that eventually become cavities. 
While necessary to nature, floods can wreak havoc on human communities. Ohio's greatest natural disaster, "The Great Flood," struck in March 1913, saturating Ohio and ending the Miami and Erie Canal. At Providence, ice and flooding have dumped huge amounts of debris, damaged trees, washed out canal banks and even sent other competitor mills floating downriver. To see how high the river crested through flood years, visit the Isaac Ludwig Mill.
Floods and Fish
Fishermen county on a swollen river to get the annual Spring Walleye Run started. The Maumee River is the largest watershed in the Great Lakes Region, collecting tremendous amounts of runoff from the land across northwest Ohio. In Spring, heavy rains and snow melt swell the river, allowing walleye to swim upstream from Lake Erie to cast their eggs in the protective cobblestone between Perrysburg and Maumee. When the water recedes, fishermen can wade into the river to catch the famous sportfish.
Ice Jams
Pieces of floating ice carried with a stream's current can accumulate at any obstruction to the stream flow. These ice jams can develop near river bends, mouths of tributaries, points where the river slope decreases, downstream of dams and upstream of bridges or obstructions. The water that is held back may cause flooding or flash flooding upstream. If the obstruction suddenly breaks then flash flooding may occur downstream.
On the Maumee River, one of the places ice accumulates is Side Cut Metropark, backing up water into the park. During severe floods, water crosses River Road between Ford Street and Jerome Road, making much of the park essentially part of the river.
Photos from February 2019 at Side Cut Metropark by Laura Condon (top); Josh Brenneman (aerial drone photos) and Scott Carpenter