Battling Oak Wilt in the Metroparks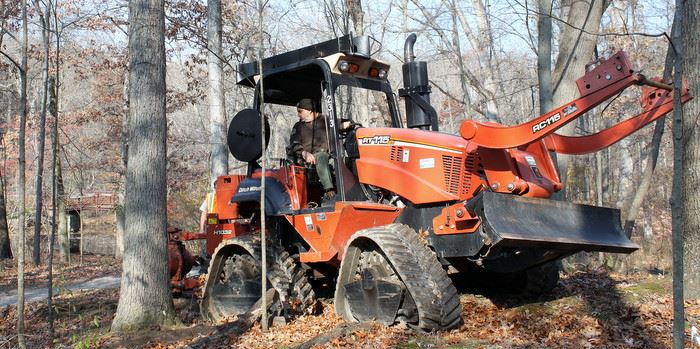 A Ditch Witch tractor outfitted with a 5-foot-long vibratory plow, typically used for laying fiber-optic cable, is helping to save oak trees. The plow severs roots around stands of dead trees to keep the oak wilt from spreading to neighboring trees. Work began at Oak Openings Tuesday. The crew will be working at Wildwood Thursday.
Oak wilt, caused by an invasive fungus, is fatal to oaks, which are the predominant tree species at Oak Openings and Wildwood. Areas infected with the disease are identified by their discolored canopies during aerial surveys in the summer.
Photo, top: Jason Diver, an arborist on the natural resources staff, cuts a trench around dead oak trees Tuesday at Oak Openings. Other members of the crew cleared the area earlier to provide access for the machine. Photo below: Diseased trees stand out against the surrounding green canopy in an aerial photo of Wildwood from 2014.