Childhood Memories Spark Desire to Get Others Outdoors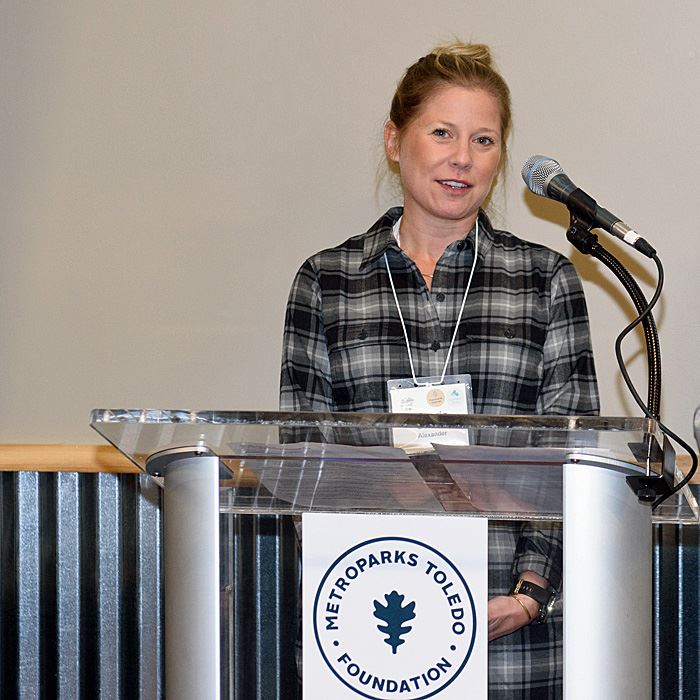 On the growing list of contributors to the Cannaley Treehouse Village at Oak Openings Preserve, Carrie Alexander's name appears three times: as a board member of the Metroparks Toledo Foundation, chair of the Treehouse Village Cabinet and donor.
"The opportunity to serve Metroparks was what initially motivated me. I sought out that opportunity," she said. "The parks have always been a part of my life, so they are very important to my family and me."
The Metroparks Toledo Foundation relaunched last year to reignite the spirit of public-private partnership and philanthropy in support of the park system, and the treehouse village is its first campaign. Carrie's committee has so far raised $1.25 million of the $1.5 million goal.
With a generous lead gift and more than three dozen other individual and corporate donations, the Cannaley Treehouse Village has come a long way since plans were announced in November by Metroparks Toledo Board President Scott Savage and Metroparks Toledo Foundation Chair Joe Napoli.
The largest of the structures, a common treehouse that will accommodate up to 50 people for events, is nearly complete, while a pair of two-person overnight treehouses is under construction. When it's done, the Village, located in the new Beach Ridge Area of the preserve, will also include six- and four-person treehouses as well as three platforms for camping in the trees in tents or hammocks.
Among the donors to the project are Carrie and her husband Brad, along with Carrie's parents Dave and Carol Haddix. Together, they gave $25,000. Mr. Haddix also helped facilitate a substantial corporate gift that included cash and in-kind contributions valued at more than $50,000.
"I've never been so inspired by a project. It's the coolest think I've ever heard of," Carrie said.
When she first learned about the project, Carrie said, it captured her imagination instantly, probably because it connected with "some of the most vivid memories of my childhood" – exploring another Metropark, Wildwood Preserve, near her home. "We were there all the time," she said.
A management consultant for Findley, a national human resources and benefits consulting firm, it was her service on another board, Maumee Valley Habitat for Humanity, that would connect Carrie with the Metroparks Toledo Foundation board. She told fellow Habitat board member Don Rettig, a former Metroparks director, to let her know about any opportunities to volunteer for the park system. The two now serve together on the Foundation board.
Whether it is treehouses or future projects that the Metroparks Toledo Foundation supports, Carrie said the reason she is involved is to "Get people to experience nature firsthand. It's made such an important impression in my life." 
---
Photo, above: Carrie speaks at a Metroparks Toledo Foundation event in September
Below: Click to see a video featuring Carrie and other supporters talking about the project.