Librarian Picks Books Focusing on Insects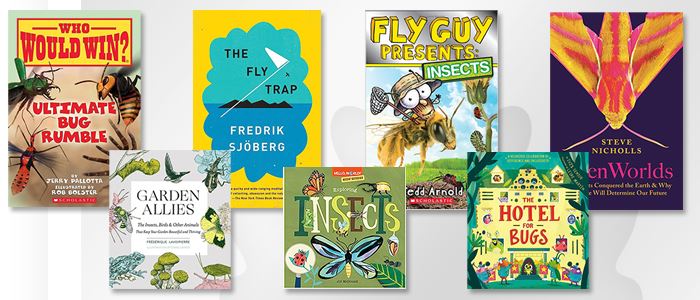 Metroparks is celebrating bugs BugFest this year on Saturday, August 26, 10 a.m. to 2 p.m. at Swan Creek, Airport Hwy. entrance. [Details]
Check out the recommended reading on Bugs and Insects from librarians at the Toledo Lucas County Public Library. 
Alien Worlds: How Insects Conquered Earth, Andy Why Their Fate Will Determine Our Future
By: Steve Nicholls
Life on Earth depends on the busy activities of insects, but global populations of these teeming creatures are currently under threat, with grave consequences for us all. Alien Worlds presents insects and other arthropods as you have never seen them before, explaining how they conquered the planet and why there are so many of them, and shedding light on the evolutionary marvels that enabled them to thrive. Blending glorious imagery with entertaining and informative science writing, this book takes you inside the hidden realm of insects and reveals why their fate carries profound implications for our own.
Find it at your Library: [ Book ]
The Fly Trap
By: Fredrik Sjoberg
The Fly Trap is a meditation on the unexpected beauty of small things and an exploration of the history of entomology itself. What drives the obsessive curiosity of collectors to catalog their finds? What is the importance of the hoverfly? As confounded by his unusual vocation as anyone, Sjöberg reflects on a range of ideas -- the passage of time, art, lost loves -- drawing on sources as disparate as D. H. Lawrence and the fascinating and nearly forgotten naturalist René Edmond Malaise. From the wilderness of Kamchatka to the loneliness of the Swedish isle he calls home, Sjöberg revels in the wonder of the natural world and leaves behind a trail of memorable images and stories.
Find it at your Library: [ Book ] [ eBook ]
Garden Allies: The Insects, Birds, & Other Animals That Keep Your Garden Beautiful And Thriving
By: Frederique Lavoipierre
An illustrated guide to the animals and insects that live in our yards and gardens and act as helpful friends by pollinating and keeping pests in check and includes information on welcoming and nurturing these creatures.
Find it at your Library: [ Book ]
Exploring Insects
Directed by: Jill McDonald
In Exploring Insects, readers can learn all about bugs, with pollinators like bees and butterflies, incredible rainforest insects, and even an insect that uses its butt to warn off predators!
Find it at your Library: [ Book ]
Fly Guy Presents: Insects
By: Tedd Arnold
Fly Guy and Buzz are ready for their next field trip! And in FLY GUY PRESENTS: INSECTS they go outside to learn all about other insects like Fly Guy! With straightforward text, humorous asides, and kid-friendly full-bleed photographs throughout, young readers will learn lots of fun facts about all sorts of bugs. Award-winning author/illustrator Tedd Arnold really brings nonfiction to life!
Find it at your Library: [ Book ] [ eBook ]
The Hotel For Bugs
By: Suzy Senior
The topics of inclusion and exclusion are explored through the adventures of a slug who wants to stay the night in the new "Hotel for Bugs" but is told that he can't because the hotel is only for bugs. A new hotel for bugs has just opened, and the local bugs are so excited! When the doors open, they marvel at the decorations, check out the buffet, and lounge by the pool and spa. Soon, a slug enters the building and asks for a room, but the manager tells him that the hotel is only for bugs. The sad slug leaves, and the bugs point out to the manager that even the bugs are all different-and even stranger than the slug! Some of the bugs have ears on their knees, roll poop, and taste flowers with their feet. Can they convince the manager that the hotel is for everyone, not just bugs?
Find it at your Library: [ Book ]
Who Would Win?: Ultimate Bug Rumble
By: Jerry Pallotta
This nonfiction reader compares and contrasts 16 ferocious insects. Readers will learn about each animal's anatomy, behavior, and more. Then compare and contrast the battling animals before finally discovering the winner! This nonfiction series is full of facts, photos, and realistic illustrations, and it includes a range of mammals, sea creatures, insects, and dinosaurs to satisfy all kinds of animal fans.
Find it at your Library: [ Book ] [ eBook ]