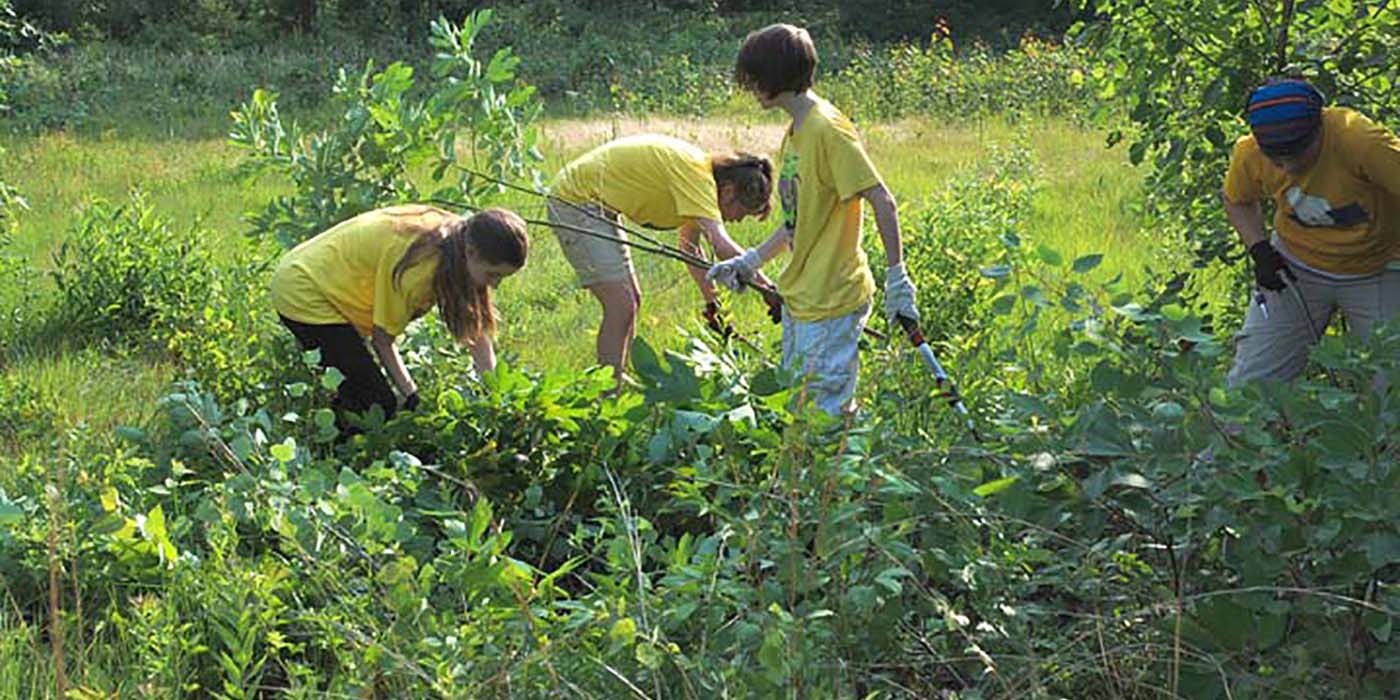 Conservation Club.
Conservation Club is an opportunity for high school students who are interested in careers in Natural Resources, Park Services, and Outdoor Recreation to learn skills and career development from Metroparks Staff. Come trek into the wilds to learn current land management practices, as well as, participate in stewardship and restoration projects! Venture into the parks to learn how to build and maintain our public areas! Experience exciting outdoor recreational programs such as kayaking and tree climbing!
Being a Conservation Club member is an excellent way to earn service hours, gain valuable hands on career experience, and build friendships with others who have similar interests.
Exciting Activities and Hands on Experiences!
Conservation Club members help with a variety of activities including habitat restoration, tree planting, invasive plant removal, building trails, vehicle maintenance, and more- all the while learning proper field techniques from Metroparks Natural Resources and Park Services Staff. Members will also have opportunities to learn outdoor skills activities such as camping, tree climbing, and kayaking.
Requirement and Commitment: Conservation Club participants must be between the ages of 14 and 18 at the time of application. This program is aimed for individuals interested in a career in natural resource management, park operations, and/or outdoor recreation so individual interests will be evaluated during the application and interviewing process.
There will be a total of 13 Conservation Club sessions beginning in September 2022 and ending in June 2023. Members are expected to attend at least 9 sessions in order to go on the multi-day excursion offered at the end of the program.
Training: Metroparks provides on-site training for all Conservation Club members.
The Application Process.
If interested, apply by contacting Meredith Busic (information below). Applications will be reviewed and we will be in communication with you about signing up for an informal interview. No more than 10 Conservation Club members will be accepted for the 2022-2023 season.
Applications are due by August 12th, 2022. Applicants will be notified the week of the 15th to schedule an interview. Informal interviews will be held on Friday, August 26th, Saturday, August 27th, and Sunday, August 28th. Applicants will be contacted on Monday, August 29th wither they have or had not been accepted to the program.
Questions? Contact Meredith Busic, meredith.busic@metroparkstoledo.com, 419-262-8826.
2022 – 2023 Conservation Club Schedule
Date

Topics

September 10, 2022

11 a.m. to 2 p.m.

1. Meet and Greet
Pearson Metropark

September 24, 2022

9 a.m. to Noon

2. Trail Building
Oak Openings Preserve Metropark

October 8, 2022

9 a.m. to Noon

3. Stewardship and Archery
Swan Creek Preserve Metropark

October 22, 2022

Noon to 3 p.m. 

4. Tree Climbing and the Blue Creek Seed Nursery
Blue Creek Metropark

November 12, 2022

9 a.m. to Noon

5. Natural Resources Reforestation
Blue Creek Metropark Camp Ground

December 10, 2022

11 a.m. to 2 p.m.

6. Interview Skills and Oak Wilt Walk
Wildwood Preserve  Metropark

January 14, 2023

9 a.m. to Noon

7. Vehicle Maintenance
Pearson Metropark

February 18, 2023

Noon – 3 p.m.

8. Survival Skills and Boot Pickup
Side Cut Metropark

March 25, 2023

6:30 p.m. to 9:30 p.m.

9. Frog Monitoring
Oak Openings Preserve Metropark

April 8, 2023

9 a.m. to Noon

10. Natural Resources Conservation- Greenhouse Plantings
Blue Creek Metropark

April 29, 2023

Any one shift

11. Library Take Over
Main Branch Library

May 20, 2023

9 a.m. to Noon

12. Natural Resources Restoration- Garlic Mustard Pulling
Manhattan Marsh Metropark

June 3, 2023

9 a.m. to Noon

13. StewardSHIP: Paddling and river cleanup 
Middlegrounds Metropark

June 6, 2023

6:30 p.m. to 8 p.m.

Pre-trip meeting 
Toledo Botanical Gardens- Crosby Conference Center

June 19 – 22, 2023

The Great Smoky Mountains, Tennessee: The End of the Year Excursion
The Excursion
Conservation Club members who attend 9 of the offered sessions will be able to participate in a free multi-day excursion. This will be a chance to utilize the skills learned over the course of the year and to gain more knowledge about other area industries related to natural resource management and conservation as well as park management. Activities will include a mix of outdoor recreation and education opportunities.
At the end of the 2022 – 2023 year from June 19th thru June 22nd, Conservation Club members will get to travel to the northern portion of the Great Smoky Mountains National Park in Tennessee! More information on the awesome adventures that await participants is to come!